2018 WVU School of Nursing Alumni Celebration September 7 and 8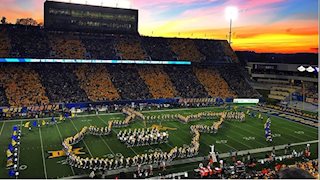 Includes Friday night reception and Saturday pre-game tailgate
2018 WVU School of Nursing Alumni Celebration
The School of Nursing Alumni Celebration will be held September 7-8, 2018, in Morgantown. This weekend offers an exciting opportunity for alumni to reconnect with former classmates and make new connections and memories. Below are the details for this year's event. Invitations have been e-mailed and mailed and you can register online. We hope to see you in September!
Friday, September 7, 2018
WVU School of Nursing Alumni Reception & Celebration
6-8 p.m.
The Erickson Alumni Center, Kennedy Club Room
One Alumni Drive
Morgantown, WV
Graduates and guests are invited to join us in celebrating the School of Nursing and its graduates. Catch up with former classmates in the beautiful Kennedy Club Room which features WVU memorabilia and beautiful views. The reception will feature drinks (open bar) and heavy hors-d'oeuvres. During the reception, we will recognize the Class of 1968. Cost is $35/person.
Saturday, September 8, 2018
School of Nursing Alumni & Friends Tailgate
3:30 p.m. to 6 p.m. (Kickoff is 6 p.m.)
Coca-Cola Hospitality Village, adjacent to Milan Puskar Stadium (near Rosenbaum Family House/Ronald McDonald House)
Grab your gold and blue, bring your family and head over to the Blue Lot as we get ready to cheer on the Mountaineers against Youngstown State. Food, drinks and giveaways!
Game time is TBD. Visit WVUGame to purchase your game tickets. Let's Go Mountaineers!
REGISTER
Lodging
We have secured a block of rooms at the Holiday Inn (adjacent to Mon General Hospital) for the weekend. Rates are $149/night, no breakfast (two-night minimum). Call 304-241-6649 to take advantage of this special rate. You also may visit tourmorgantown.com for other lodging options.
School of Nursing Awards
The School of Nursing alumni awards are one way in which we honor alumni and friends who have provided extraordinary service to the School and to the nursing profession. Consider nominating a graduate, friend or colleague for one of these awards. The awards are presented annually during our Alumni Celebration. View a list of the awards or nominate an individual for an award.