Apple Trample 5K set for Oct. 21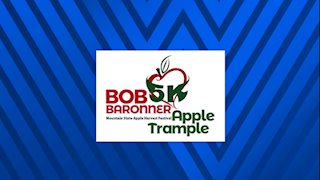 MARTINSBURG, W.Va -- WVU Medicine and The Wellness Center at Berkeley Medical Center in conjunction with the Mountain State Apple Harvest Festival Committee will host the annual 2017 Bob Baronner Apple Trample 5K on Oct. 21.
The Apple Trample is a long-standing tradition and part of a larger community event that celebrates the history and heritage of Berkeley County. The USATF-certified course follows a gently rolling terrain through downtown Martinsburg and finishes on the track at Martinsburg High School's Cobourn Field with spectators in the stands. It's a great event for first-time walkers and competitive runners.
This year, the race has been renamed in memory of Bob Baronner, a long-time community leader/banker, race supporter, and WVU Medicine University Healthcare board director. Bob lost his battle with cancer in early 2017, but his memory and legacy will continue through the annual Bob Baronner Apple Trample 5K.
Bob's family members and former co-workers at BCT have joined the Apple Trample 5K Committee with a goal of recruiting a record number of runners and walkers. Proceeds from the event will benefit the WVU Cancer Institute University Healthcare Regional Cancer Center in memory of Bob.
The 2017 Bob Baronner Apple Trample 5K will feature one start time at 10:30 a.m. for both runners and walkers. The race start will be at the McCormack Center on the campus of WVU Medicine Berkeley Medical Center. Runners will start first immediately followed by walkers with the finish line at Cobourn Field.
Registration information may be found on line at www.appletrample.com. Early registration by Oct. 11 is $25 and includes a T-shirt. After Oct. 11, the fee is $30 with no guarantee of a T-shirt. This includes race-day registration at The Wellness Center from 8-10 a.m.
Awards will be presented immediately following the race to the top three overall runners and top three runners of each five-year age group. The walkers group is a non-competitive participation activity. Walkers will not be timed and not be eligible for awards.
Chris Amores and Leslie Crabill, both University Healthcare Foundation board directors, are co-chairing the Apple Trample Committee. Sponsor levels include Elite at $5,000, Ultra at $2,500, Marathon at $1,000, Olympic at $500, Distance at $250, and Sprint at $100.
For more information on the Bob Baronner Apple Trample 5K contact Race Director Brian White at 304-264-1232. For more information on race sponsorships, call the University Healthcare Foundation at 304-264-1223.
For more information: Teresa McCabe, Vice President of Marketing and Development, 304-264-1224