Back to

News
New WVU Medicine clinic in Waynesburg to open Sept. 16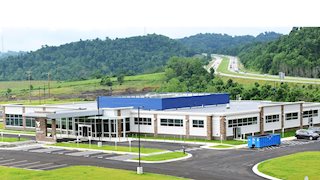 The new WVU Medicine clinic in Waynesburg, Pa., scheduled to open on Sept. 16, is taking appointments.
The $13.8 million building on Murtha Drive off exit 14 of I-79 will contain 30 exam rooms and six procedure rooms.
Approximately 15,000 square feet will house the following WVU Medicine clinics:
Heart and Vascular: cardiology, vascular
Obstetrics and Gynecology: female sexual dysfunction, gynecology, obstetrics, urogynecology
Orthopaedics: hand, joint replacement, spine, sports medicine
Podiatry
Primary Care
Radiology
The clinic will also offer diagnostic services, including echocardiograms, EKGs, lab testing, stress testing, and x-ray.
Another 3,700 square feet will be occupied by MedExpress Urgent Care, and the remaining 2,100 square feet will be shell space for future growth. There will also be an additional 17,440 square feet of land that could be used for future expansion.
There will be an open house on Oct. 26. Watch CONNECT for more details.