April is National Donate Life Month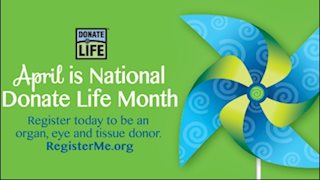 Be an organ, eye, and tissue donor
MARTINSBURG, W.Va. – April is National Donate Life Month. More than 118,000 people are currently awaiting an organ transplant in the United States. On average, 22 people die every day waiting for a lifesaving organ that doesn't become available in time.
LifeNet Health, a federally designated organ procurement organization, is partnering with WVU Medicine Jefferson Medical Center in Ranson and Berkeley Medical Center in Martinsburg during the month of April to encourage individuals to consider registering as an organ, eye, and tissue donor.
Throughout the month of April, both Berkeley Medical Center and Jefferson Medical Center in will be flying their Donate Life flags. Information on National Donate Life Month will be on display from 8 a.m. until noon on April 4 in the Berkeley Medical Center lobby and from 9 a.m. to 1 p.m. on April 7 and 7:30 to 10 a.m. on April 19 in the Jefferson Medical Center main lobby.
"WVU Medicine University Healthcare is partnering with LifeNet to increase awareness in our hospitals and in our communities of the importance of registering as an organ, eye, and tissue donor," Teresa McCabe, vice president of marketing and development, said. "We all have the power to save lives. Register as a donor, and provide hope to those in need."
Many individuals have already registered through the DMV, and there is nothing else needed other than making family, friends, and co-workers aware of the decision. Those who haven't registered or who want more information can visit www.DonateLifeWestVirginia.org.
For more information: Teresa E. McCabe, University Healthcare Vice President of Marketing and Development, 304-264-1223