Barrackville Middle School makes donation to breast cancer research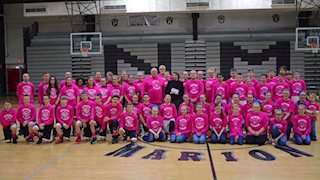 The boy's and girl's basketball teams at Barrackville Middle School are doing their part to raise breast cancer awareness and support breast cancer research at the WVU Cancer Institute.
Earlier this year, the players sold pink t-shirts to their friends and family, raising $300, and during their Pink Out basketball game against Fairview Middle School in February they collected $138 from fans who attended the game. The game was extra special to Hannah Young, who lost her mother and an aunt to breast cancer. "My brother designed the pink t-shirts we sold," she said.
"Our kids know a lot of people in their community who are either fighting breast cancer or have survived the disease," Russell Hixenbaugh, teacher and girl's basketball coach at Barrackville Middle, said. "I believe the passion they are showing now will only continue to grow and eventually will make a big impact on future efforts to find a cure."
Breast cancer researcher Elena Pugacheva, PhD, accepted the school's donation on behalf of the Cancer Institute. "When I heard about what you did to help reduce the breast cancer burden, I was so touched that it brought tears to my eyes." In a show of her appreciation, Dr. Pugacheva invited the students to come to the Cancer Institute and visit her lab.
In the photo, The basketball teams from Barrackville Middle School and Fairview Middle School pose with Elena Pugacheva, PhD, breast cancer researcher at the WVU Cancer Institute, during their Pink Out game to raise awareness and funds for breast cancer research.
-Sherry Stoneking-