Berkeley Medical Center announces 2017 Nursing Award winners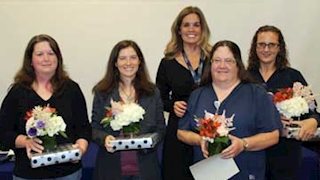 MARTINSBURG, W.VA. – Every year, National Nurses Week focuses attention on the diverse ways America's registered nurses work to save lives and to improve the health of millions of individuals. "Nursing: The Balance of Mind, Body, and Spirit" was the theme for National Nurses Week, May 6-12.
On May 12, which marked National Nurses Day, WVU Medicine Berkeley Medical Center held its annual nursing awards reception in the auditorium of the WVU Robert C. Byrd Health Sciences Center on the Berkeley Medical Center campus. The 2017 winners of the Nursing Excellence Awards were announced along with the Nurse Technician Excellence Award winners.
The Nursing Excellence Award recognizes nurses who have been selected by their peers for clinical excellence, caring, commitment to the profession, and leadership. The Nurse Technician Excellence Award recognizes techs who have been selected by their peers for demonstrating devotion to their work, patients, and their nursing unit.
For more information: Teresa E. McCabe, WVU Medicine Eastern Panhandle Vice President of Marketing and Development, 304-264-1223