Busy Bee Award winners announced at Berkeley Medical Center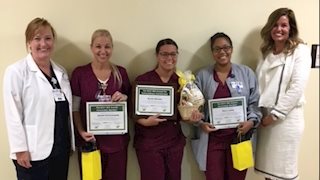 MARTINSBURG, W.Va. – Raven Brown, medical/surgical, and Kelsey Wines, ICU, were recently named WVU Medicine Berkeley Medical Center's Busy Bee Award recipients for the first and second quarters 2017.
The Busy Bee award was established by Nursing's Work Life Council to recognize outstanding nursing technicians at Berkeley Medical Center. Technicians may be nominated by patients, visitors, family, nurses, physicians, employees, or volunteers for providing excellent patient care.
Jeanie McGuinness, pediatrics, and Reka Lewis, medical/surgical, were recognized as honorable mention recipients.
Nomination forms for the Busy Bee Award are available at locations throughout the Berkeley Medical Center campus. Anyone who witnesses a nursing technician displaying outstanding service is encouraged to complete and submit a nomination form.
For more information: Teresa E. McCabe, WVU Medicine Eastern Panhandle Vice President of Marketing and Development, 3