Cagna Receives AHIP Credential from Medical Library Association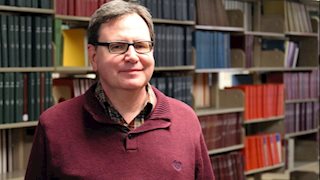 Robert Cagna, the library director for the West Virginia University Charleston campus, has been approved for membership in the Medical Library Association's (MLA) Academy of Health Information Professionals (AHIP) at the Distinguished level.
The Academy is MLA's peer-reviewed professional development and career recognition credentialing program. AHIP promotes lifelong learning and exemplary professional performance by recognizing achievements in continuing education, teaching, publishing, research, and other contributions to the profession.
The AHIP credential denotes the highest standards of professional competency and achievement in the field of health care information. The AHIP credential is seen as a valuable designation and employers site academy membership as a preferred requirement.
"I'm honored to have received this distinction," Cagna said.
"We congratulate Robert on achieving this important recognition and demonstrating the highest standards of professional practice to which he and the Medical Library Association are committed," said Tomi Gunn of the Medical Library Association.