Care That Crosses Generations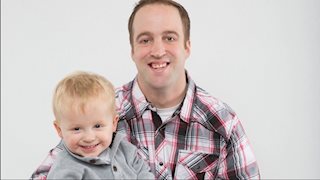 The WVU Medicine Children's Pediatric Heart Care Program provides world-class care to patients
from West Virginia, surrounding states, and around the world. Jamie Stueckle and Jason Hostetler are two of thousands of patients who have received heart care at WVU Medicine Children's over the last 30-plus years.
Jamie was born with hypoplastic right ventricle syndrome – which means that the chambers, valves, and vessels on the right side of his heart were underdeveloped – and an atrial septal defect – which is a hole in the wall that separates the top two chambers of the heart. Jamie was one week old on the day of his first heart surgery.
The very next day, Jamie would undergo surgery a second time. Jamie's mother, Jen Stueckle, soon learned Jamie would return to the operating room.
"And then that night, we got the dreadful call from Dr. Gus that Jamie wasn't doing well, and they were going back in for surgery," she explained. "It turned out that he had a clot that had blocked the shunt they put in. It ended up he had a clotting disorder, and we didn't know about it."
In his two short years, Jamie has had multiple surgeries on his fragile little heart, but he is now an active, always-happy little boy. Robert "Dr. Gus" Gustafson, M.D., WVU Medicine Children's pediatric cardiothoracic surgeon, sees big things in little Jamie's future.
"Jamie should have a good long-term life expectancy, we just need to wait a couple of years," Dr. Gustafson said. After one more procedure, "he should grow up, go to high school, get married…"
Jason, who is now 31, was once like Jamie. He was born with a heart defect called pulmonary atresia – which means that his pulmonary valve did not form properly. He, too, needed several surgeries to save his life. The most recent was in early 2016.
"We replaced the pulmonary valve," Gustafson said. "He's done quite nicely, and I suspect he'll live many years in the future," he added. Jason's new pulmonary valve is expected to last another 15 to 20 years, and Dr. Gus expects that procedure to be minimally invasive.
"When that valve wears out, we can probably replace it in the cardiac catheterization lab," Gustafson added.
Today, he continues routine appointments with his doctors at WVU Medicine Children's and is a happily married father of three.
These are just two of the many success stories that have come out of our Pediatric Heart Care Program. Our experts have given them the hope that although they may have once faced daunting odds, they now have the promise of a happy, normal life.