Clarksville family donates gift cards to cancer patients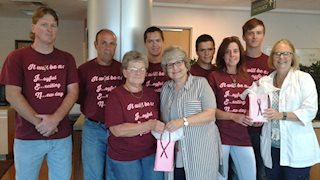 A Clarksville, PA, man and his two sons and other family members have donated $2,000 in gift cards to patients at the WVU Cancer Institute Mary Babb Randolph Cancer Center. Art Moore and his sons, Sam and Dave, purchase the cards with the support of businesses and public donations throughout the year. They distribute them to cancer patients and their families at various hospitals and cancer centers in honor of Moore's wife, Jen, who lost her battle to a rare form of cancer.
"The first year of Jen's passing, the boys asked what they could do for their mother's birthday on September 21," said Moore. The family decided to create the JEN Fund, a non-profit organization, in her honor to help others on their cancer journey. 'JEN' stands for a Joyful….Exciting….New day.
This marks the fifth year that the Moore family has donated the gift cards, which benefit the Cancer Center's Comfort Fund. The cards can be used by patients to purchase gas or groceries. "Your cards have helped so many patients," social worker Jennifer Craddock told the Moore family. "I've had patients tell me that they weren't sure how they would have gotten home, if they hadn't received the cards for gas money."
To learn more about the JEN Fund visit the organization's facebook page