Community seminar to address neurosurgery services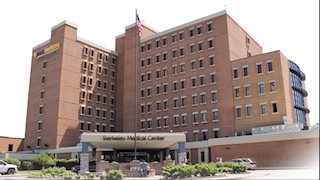 Pylons Medical History Lecture on the Birth of Public Health
MARTINSBURG, W.Va. – WVU Medicine Berkeley Medical Center and the WVU Robert C. Byrd Health Sciences Center Eastern Division will sponsor a community mini-medical school program on neurosurgery services in the Eastern Panhandle.
The seminar, titled "Advances in Surgical Spine Care," will be held at 7 p.m. on Tuesday, Oct. 17, in the Health Sciences Center auditorium on the Berkeley Medical Center campus.
Guest speaker John Caruso, M.D., board-certified neurosurgeon and director of neurological surgery at Berkeley Medical Center, will discuss neurosurgery services now available in Martinsburg, including spine, brain, and nervous system.
He will also introduce the Mazor X robotic, data-enabled surgical assistance platform for spine surgery. Berkeley Medical Center is the first hospital in the region to acquire this equipment and offer this innovative spine surgery.
Dr. Caruso is an assistant professor at the WVU School of Medicine and practices at WVU Medicine Brain and Spine in Martinsburg located in MOB3 across the street from Berkeley Medical Center.
Registration for the mini-medical school program and the Eastern Pylons History of Medicine lecture begins at 6:15 p.m. This month's Pylons Lecture, "History of the Birth of Public Health," will begin at 6:30 p.m. featuring Rosemarie Lorenzetti, M.D., M.P.H., board-certified family medicine provider and professor at the WVU School of Medicine. The mini-medical school program will follow at 7 p.m.
The mini-medical school program is being offered free to the public as a community service of WVU Medicine and the WVU Health Sciences Center Eastern Division. The Pylons Series has been made possible in part by a grant from the West Virginia Humanities Council.
For more information: Teresa McCabe, Vice President Marketing & Development, 304-264-1223