"Doctors on Call" show to focus on the head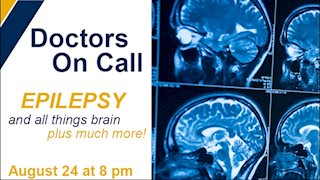 Live TV show to air at 8 p.m. August 24 on West Virginia Public Broadcasting
MORGANTOWN, W.Va. – Heads up! The next "Doctors on Call" explores health topics related to the head, such as epilepsy, dementia, headaches, sinus allergies, and more. The live television show airs at 8 p.m. on Thursday, August 24, on West Virginia Public Broadcasting.
During live interviews, Kristina Lopez, M.D., a WVU Medicine neurologist, will explain causes and treatments for headaches, and Robert Santrock, M.D., a WVU Medicine orthopaedic surgeon, will explain a new procedure to treat bunions.
Don't miss the story of Bill Ross, who fought his way back to health after suffering a traumatic brain injury in a serious motorcycle accident.
"DOC Talk," the call-in portion of the show, will provide viewers with the opportunity to ask questions about epilepsy of two WVU Medicine experts – neurosurgeon Nicholas Brandmeir, M.D., and neurologist Tracy Weimer, M.D.
This football season, tailgate guilt-free with snack ideas from a special on-location "DOC in the Kitchen." Back-to-school time has many parents thinking about immunizations, but don't forget that adults need their boosters too! Learn more on "It's No Big Deal." Eye safety in the workplace may seem obvious on a construction site, but what about at a computer screen? The "DOC Demo" will show you how to protect your vision at work, and finally the "DOC List" will offer tips to delay the onset of dementia.
WVU Medicine physicians John Phillips, M.D., and Kathy Moffett, M.D., will host the show. Highlights will be tweeted live on Thursday evening (@DOCWVU). Viewers can also get updates, suggest topics, and provide feedback anytime on Facebook (facebook.com/DoctorsOnCallWVU).
Now in its 25th season, "Doctors On Call" is an hour-long magazine style show that airs quarterly.
To see previous episodes, visit wvumedicine.org/DOC.
For more information: Sarah Wisniewski, Communications Specialist, 304-285-7270