Dr. Clay Marsh meets with Oman health minister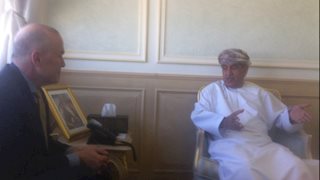 MUSCAT, Oman – In a meeting Sunday with Oman's minister of health, WVU's vice president for health sciences discussed health challenges common to people and communities in Oman and West Virginia.
His Excellency Dr. Ahmed Bin Mohammed Al Saidi welcomed Dr. Clay Marsh to the Omani capital of Muscat. After their meeting, Marsh said, "We talked about how we are both approaching problems of health and health care in rural and small communities. Like us, they are working on issues like improving diet, exercise, and sleep. Dr. Al Saidi and I also talked about the importance of maintaining a sense of purpose throughout life, and how that is one of the keys to individual and community health."
Marsh is in Oman for the annual commencement ceremony for Oman Medical College, which educates physicians, pharmacists, and scientists, and was established in cooperation with WVU in 2001.
—WVU—
Caption: Dr. Clay Marsh talks with His Excellency Dr. Ahmed Bin Mohammed Al Saidi, minister of health for the Sultanate of Oman, Jan. 10 in Muscat.