Eight Eight Six Foundation donates to St. Joseph's Hospital in memory of Colton Dean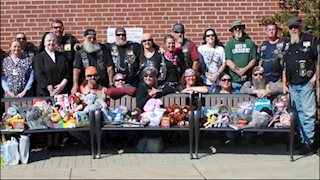 BUCKHANNON, W.Va. – The volunteers with the Eight Eight Six Foundation made a ride to St. Joseph's Hospital in Buckhannon to make a special donation in honor of Colton Dean, a young man who lost his life from bone cancer in 2011.
"Colton's last wish was to donate items for children to area hospitals," Mike "Boonie" Jarvis, national president of the Eight Eight Six Foundation, said.
The Foundation is a non-profit organization consisting of motorcycle enthusiasts from north central West Virginia. It not only supports public safety and the U.S. military but also help to keep Colton's memory alive. The Foundation donated blankets, stuffed animals, toys, books, and many other items to the Hospital.
St. Joseph's Hospital staff will provide the items to children in the emergency room, having surgery, or admitted to the Hospital to help brighten their stay.
For more information: Lisa A. Wharton, St. Joseph's Hospital Vice President of Marketing, Public Relations, and Foundation, 304-473-2138