Emrick offers much needed support to unique pediatric patients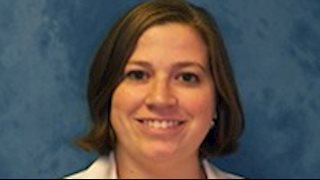 This excerpt was originally published by Charleston Area Medical Center News. Read the full story here.
Developmental-behavioral pediatrics
Another specialist that is unique to the state is developmental-behavioral pediatrician Beth Emrick, M.D. She works in the WVU Physicians of Charleston – Pediatrics office, located in the medical staff office building at Women and Children's Hospital.
Developmental-behavioral pediatricians treat children with learning, attention and behavioral disorders as well as other developmental disorders like autism spectrum disorders, feeding disorders and visual and hearing impairments.
"I see kids with any kind of developmental delays young kids with behavior problems, school-aged kids with ADHD, kids with feeding disorders, and more," Emrick said. She also sees children once they are released from the NICU if they are experiencing delays in developmental milestones.
Emrick, who grew up in Charleston, came back to the area because she saw the need for her specialty and wanted to give back to the community where she had lived.
"We didn't have anybody around here that specialized in developmental-behavioral pediatrics. When I was a resident, we sometimes identified developmental delays or suspected problems like autism, but we didn't have a specialist in the area to send them to. It was frustrating," she said. "I wanted to come back here to fulfill that need."
Emrick completed a three-year fellowship in developmental-behavioral pediatrics at Akron Children's Hospital and is now board-certified in the specialty.
Emrick coordinates medical care for children with developmental or behavioral disorders, which may include testing, prescribing medications, or making sure parents are in contact with all the additional resources needed.
"Sometimes I'm the first person to make a diagnosis like autism, so I review all the necessary services with the family to make sure they are getting all the therapies they need," Emrick said. "There are a lot of parents looking for answers as to why their child is having developmental delays or behavior problems, and if I can be that person who helps them figure it out, that keeps me motivated."
Having sub-specialists on one campus in addition to dozens of other pediatric specialties offered at CAMC is vital to ensuring the best, most comprehensive care for children served at Women and Children's Hospital.
Emrick sees patients Monday through Friday at the WVU Physicians of Charleston – Pediatrics office located in Suite 103 of the medical staff office building at Women and Children's Hospital. Call (304) 388-1552 for more information.