First Eastern Panhandle HSTA student finishes medical school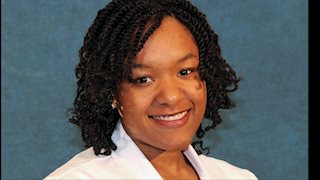 Martinsburg, W.Va. – West Virginia University's Health Sciences and Technology Academy (HSTA) program graduated the first Eastern Panhandle student in May 2016.
Rebecca L. Furby, M.D., earned her medical degree at WVU and will begin residency training in pediatrics at Eastern Virginia Medical School, affiliated with Children's Hospital of the King's Daughters, Norfolk, Virginia, in July.
Dr. Furby began her academic journey as a student in HSTA – a program aimed at increasing the number of underrepresented students in West Virginia who pursue college degrees in health sciences and science, technology, engineering and mathematics (STEM) majors. A major goal of HSTA is to increase the number of health practitioners and advocates in the medically under-served communities of West Virginia.
"The (HSTA) program exposes students to peers with similar mindsets, sets high standards to push students towards success, and allows ample opportunity for improving communication and networking" Furby said. "Personally, these attributes from the program not only gave me a head start for college, but helped me explore different types of science and technologies I hadn't encountered."
Furby was accepted as an undergraduate student in the MedSTEP program at Shepherd University, a joint program with the WVU School of Medicine that helps prepare students for medical school. Furby also participated in the WVU School of Medicine Eastern Division's simulated patient (actor) education sessions for medical students at the Eastern Campus.
"Rebecca is a great role model, showing how students can achieve their dreams through hard work and by participating in unique educational programs sponsored by West Virginia University," Konrad Nau, M.D., dean, WVU School of Medicine Eastern Division, said. "These opportunities exist for many students around the state to help them be successful in high school and college, and to prepare them for careers in medicine, health sciences, technology and more."
Approximately 2,049 students have graduated from the HSTA program through 2014, and 99 percent of those students attended college with 90 percent earning a four-year degree or better. On average, $30,000 more per year is earned by HSTA students than their highest-earning parent, and 90 percent of HSTA students stay to live and work in West Virginia.
For news and information on the WVU School of Medicine, follow us on twitter @WVUMedSchool, like us on Facebook or visit medicine.hsc.wvu.edu. Check wvutoday.wvu.edu and @WVUToday daily for the latest news from WVU.
--WVU—