Free oral cancer screenings offered in Harrison and Roane counties April 8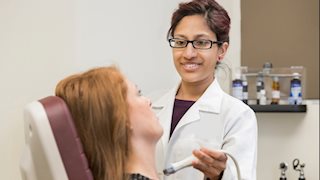 MORGANTOWN, W.Va. – WVU Medicine ENT specialists are providing free oral cancer screenings at multiple sites from 10 a.m. to 4 p.m. on Saturday, April 8, in Harrison and Roane counties.
"Screening for oral cancer is important for everyone," Rusha Patel, M.D., WVU Medicine head and neck surgeon, said. "It's easy to do yourself, and if caught early oral cancer is easily treated."
The first week in April is Oral, Head, and Neck Cancer Awareness Week, when many hospitals, clinics, and medical centers around the nation provide free head and neck cancer screenings for community members. WVU Medicine chose to take their screening events into communities that are most affected by this disease.
West Virginia leads the nation in rates of oral cancer, and Harrison and Roane counties have the highest rates in the state with rates two to three times higher than the national average. Many patients in these areas don't receive timely care, often because of the difficulty in traveling to Morgantown for diagnosis and treatment. By holding screening events in communities, Patel and her colleagues hope to make care more accessible.
Participants will be asked to complete a questionnaire about their risk factors, and the screening itself is a simple exam in which a physician will feel and visually inspect the neck, mouth, and throat. Participants will also learn how to perform self-examinations at home.
The Roane County event will be held at the Roane County Commission on Aging located at 811 Madison Avenue in Spencer.
The Harrison County event will be held at Nutter Fort Elementary School located at 1302 Buckhannon Pike in Nutter Fort.
Appointments are requested, but walk-ins are welcome. Call 304-293-1640 to make an appointment or for more information.
A fundraiser to promote oral cancer awareness and to raise money to support this and future screenings will be held from 4-10 p.m. today (April 3) at Tin 202 on High Street in Morgantown.
For more information: Sarah Wisniewski, Communications Specialist, 304-293-7087