Back to

News
Pledging professionalism and service, future dentists begin classes
Class of 2023 signs professionalism commitment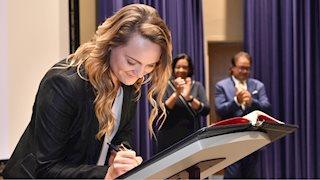 A three-day, nonstop schedule for the West Virginia University School of Dentistry Class of 2023 ended with a presidential nod in the Okey Patteson Auditorium Friday, August 16.
University President E. Gordon Gee addressed the first-year dental students at the final orientation event preparing them for their four-year journey into the oral healthcare profession. He welcomed them to the Mountaineer family and applauded the 48 men and women, each of whom had at least 20 other applicants vying against them for a place in the state's only dental school.
Part of Gee's remarks reminded the students how service plays into our core values at WVU. It was not the first time students have been encouraged by the college president's words. A quote from Dr. Gee adorns a wall of the dental school's admissions suite, one of the first places an aspiring dental school student visits when interviewing.
"Serving our students and our state is not just our duty – it is our passion." Dr. E. Gordon Gee.
The future dentists in the class of 2023 are from five countries and nine states in the US.
Leading up to the start of the fall semester, the students were involved in orientation discussions about professionalism and diversity. Orientation also consisted of training sessions in laboratory safety, emergency protocols, instrumentation and laptop instructions.
The Class of 2023 students met with advisors, upperclassmen and financial aid representatives. Organized dentistry leaders from the West Virginia Dental Association along with the dental school's alumni association president addressed students and their parents.
Over the next four years, the dental students will attend every class with one another and work side-by-side in labs and clinics. Light-hearted, group activities are also built into orientation to foster teambuilding early in their dental school careers.
The culmination of the welcoming activities is the School of Dentistry's professionalism assembly.
"Throughout the three-day orientation program, students discussed and pondered the term 'professionalism'. They discovered that professionalism is like our fingerprints. It has been said professionalism goes with us everywhere. We leave the imprint of our professionalism on each person with whom we interact," said Dr. Shelia Price, Associate Dean of Admissions, Recruitment and Access.
Students sign off on their commitment to the expectations of the Dental Student Pledge of Professionalism. The formal event concludes with a reception for students and their families graciously provided by the WVU School of Dentistry Alumni Association.
As a student dentist at the West Virginia University School of Dentistry, I pledge to conduct myself in a professional, ethical, and courteous manner at all times, both in and out of school; to adhere to the high standards of the dental profession set forth in the American Dental Association Principles of Ethics and Code of Professional Conduct; to embrace diversity; to maintain a professional appearance; and to impart the virtues of integrity, honesty, fairness, and compassion. I further pledge to respect all patients, faculty, staff, and student colleagues.
As a dentist in training, I pledge to honestly acquire the knowledge and skills required to fulfill the educational competencies of the dental curriculum. I shall strive during my professional education and career to preserve the trust and wellbeing of my patients by placing their needs ahead of my own. I shall dedicate myself to lifelong learning for the welfare of others.
My signature indicates my commitment to abide by the terms of the Dental Student Pledge of Professionalism.
The scholars began their Doctor of Dental Surgery classes Monday, August 19.
The class of 2023 includes:
Bailey Aab Clendenin, WV; Mohamad Al Halak Syria; Ali Alterki Kuwait, Kuwait; Callaway Anderson Austin, TX; Fatmah Atsh Kuwait City, Kuwait; Blake Bachner Freeport, PA; Dakota Bailey Princeton, WV; Kyle Bird Charleston, WV; Andrew Bishop Summersville, WV; Jared Butler South Charleston, WV; Brittany Carver Parkersburg, WV; Eamonn Cronin Inwood, WV; Wijdan Dabeek Syria; Ashley Faddis Waynesburg, PA; Allison Fritz Beckley, WV; Mark Gilkerson Beckley, WV; James Goots Bridgeport, WV; Grant Hodges Oldsmar, FL; Madison Hull Fancy Gap, VA; Mays Ibraheem Morgantown, WV; Michael Jacobyansky Connellsville, PA; Brittany Joseph Charleston, WV; Mariam Khan Shady Spring, WV; Vaidehi Kumar Richmond, VA; Elizabeth Labuda Uniontown, PA; Cole Lanier South Charleston, WV; Brittany Lewis Beaumont, NC; Samuel Martino Clarksburg, WV; Ryan Massinople Charleston, WV; Keerthana Mesineni Falling Waters, WV; Brittany Moleta New Bern, NC; Ashley Noah Ridgeley, WV; Hunter Palmer Harpers Ferry, WV; Jacob Pancake New Martinsville, WV; Nidhi Patel Morgantown, WV; Payal Patel Goffstown, NH; Austin Perdue Bridgeport, WV; Samantha Phelix Winfield, WV; John Pitzer Bel Air, MD; Chase Preston Chapmanville, WV; Lauren Srivastava Scott Depot, WV; Christopher Stuck Leachville, AR; Elvis Tanyi Bachuo Akagbe, Cameroon; Gregory Traver Purcellville, VA; Garrett Volk Cross Lanes, WV; Logan Webb Danville, WV; John Wilfong Bridgeport, WV; Xuehao Xie Nanjing, China
Find photos of orientation and the professionalism assembly on our smugmug page.