Global health rotations provide students with international experience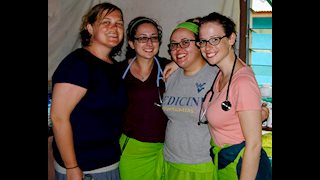 Programs increase medical skills and cultural awareness
Every year, teams from West Virginia University's Schools of Dentistry, Medicine, Nursing and Pharmacy participate in clinical rotations at locations across the world. These rotations are coordinated by WVU's Global Health Program.
During the 2015 spring semester, health professions students, faculty members and residents traveled to Guatemala, Oman, Barbuda, Brazil, Fiji and Italy. Each global health rotation lasts about a month. In addition to clinical experience, students gain insights into culture, communication and relationships.
"The students not only serve others on these rotations but also gain tremendously from their experiences, including skills that will make them better healthcare professionals to serve the people of West Virginia," said Melanie Fisher, M.D., M.Sc., director of the WVU's Global Health Program.
In February, WVU School of Medicine faculty members Maggie Jaynes, M.D.; Troy Krupica, M.D.; Maria Merzouk, D.O.; and Josephine Reece, M.D., led a trip to San Lucas Toliman, Guatemala, with residents Kyle Chapman, M.D., and Barry Rittman, M.D. Four medical students – Jeremy Hustead, Dorothy Knutsen, Matthew Lake and David Shahbodaghi – and two staff members also participated.
The residents provided education about diabetes and asthma to the promotoras, or lay community members, from the 19 communities serviced by the mission. The patients learned how to use glucometers.
"We saw about 650 patients in the community, including some home visits," said Dr. Jaynes, professor and section chief of pediatric neurology. "The students appreciate the impact of education, economic and living conditions, culture and access to care on the health of an individual as well as their family and community daily in a much more poignant way than learning medicine completely in a tertiary care center. We hope that these experiences provide a foundation of the humanism of medicine that is kept alive in their souls as they become physicians."
Knutsen noted that her experience in Guatemala helped her forge friendships and create bonds that will last a lifetime. "I was able to listen to patients' stories with an open mind and heart and help those lead healthier lives for themselves and their families," she added. "I have wanted to do global health as part of my career since I started medical school. This experience has only strengthened my desire to continue my international experience. I know that I want to continue doing global health projects throughout my career."
Also during the month of February, medical students Aaron Lucas and John-Mark Stone traveled to Oman, a rotation facilitated by Christopher Martin, M.D., M.Sc., director of the Health Sciences Center Global Engagement Office. "I have learned so much about communication, body language, primary care principles and medicine in general," Stone noted. "Of all the lessons that I take away from Oman, of all the experiences that humbled me throughout this trip, the greatest of these things was the kindness, generosity and hospitality of the Omani people."
In April, Kim Carey, M.D., and Lee Smith, M.D., led three medical students – Sarah Knapp, Maggie Moreland and Shahbodaghi – on a rotation in Barbuda. "We saw a variety of medical illnesses and learned to be resourceful due to the limited amount of supplies," Knapp said. "Meeting people from Barbuda enhanced my cultural experience through many ways. The people taught me valuable lessons, and I feel that I grew as a person."
Moreland added, "My rotation in Barbuda was an eye opening experience that I will never forget. I learned a lot about how to prioritize a patient's conditions, treat what you can, think outside the box and keep a relaxed and positive attitude."
The Brazil rotation was supervised by Beth Nardella, assistant professor in the Department of Exercise Physiology, and Nathan Darity, project director with Amizade. Medical students Elizabeth Northfield, Anthony Roohollahi and Katie Whetsell participated in the Brazil rotation with School of Nursing students Lauren Anderson, Frankie Johnson and Sonya Rouleau as well as School of Pharmacy students Macy Frame and Camille Heim.
The Fiji group included Dr. Reece and students Knutsen, Julia McNeil and Layla Sankari. "The best thing about the Fiji rotation is that the team totally immerses themselves in the Fijian culture by living in the villagers' homes, sharing meals and their native foods and partaking in nightly
ceremonies, in addition to the daily clinical work provided in the villages," Reece shared. "The remoteness of the villages prohibits a lot of the patients, especially elderly, from being able to see a doctor, and they rely on our visits yearly for care. By engaging in their community, we are able to build a stronger relationship with our patients."
SOM faculty members Carl Grey, M.D., and Renee Saggio, M.D., traveled to Italy with students Adriana Bonasso Cline and Lee Wiley.
"I could not be more grateful for having the opportunity to participate in the Global Health Program in San Giovanni in Fiore," Wiley shared. "I have gained increased cultural awareness and literacy, which I feel will benefit my future doctor-patient interactions."
Cline added, "This was one of the most meaningful experiences of my life. It made me realize how much I take for granted. I was so proud of WVU to be able to continue to foster a relationship with these great people half the world away."
In addition to the above rotations, one medical student, Nicole Shockor, spent one month at the University of Pavia in Italy on a surgical rotation. This experience was made possible through WVU's new collaboration with the Association of American Medical College's Global Health Learning Opportunities program.
Also during the spring semester, a team of 13 dentists and dentists-in-training from the WVU School of Dentistry spent a week in and around San Lucas, Guatemala, providing free dental care to the rural population.
For more information about global health rotations for health professions students, contact Jacque Visyak, assistant for the Global Health Program, at jvisyak@hsc.wvu.edu, or Dr. Fisher at mfisher@hsc.wvu.edu.