Gold Humanism Summit set for April 6, 2017 at WVU Charleston Campus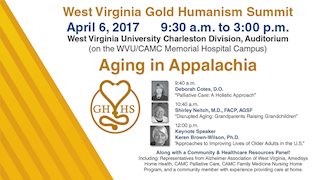 "Aging in Appalachia" to address palliative care and geriatrics
Medical Students at West Virginia University's Charleston Division are hosting the annual West Virginia Gold Humanism Summit on April 6, 2017 at the campus's Health Sciences Center auditorium.
The day long event will feature nationally recognized speakers discussing aging in Appalachia, with topics including holistic approaches to palliative medicine, the growing number of grandparents raising grandchildren, and a keynote address by Keren Brown-Wilson, PhD on reframing approaches to imporiving lives of older adults in the United States.
The summit will also include a panel discussion with community and healthcare resources.
The mission of the Gold Humanism Honore Society (GHHS) is to recognize individuals who are exemplars of humanistic patient care and who can serve as role models, mentors, and leaders in medicine. The society currently has over 24,000 members in training and practice.
GHHS honors medical students, residents, fellows, role-model physician teachers and others who demonstrate excellence in humanistic clinical care, leadership, compassion, and dedication to service.
GHHS activities are possible thanks to the Arnold P. Gold Foundation. The foundation's mission is to sustain the commitment of healthcare professionals to provide compassionate, collaborative, and scientifically excellent patient care.
For more information, visit www.gold-foundation.org