Golf outing benefits WVU Medicine Children's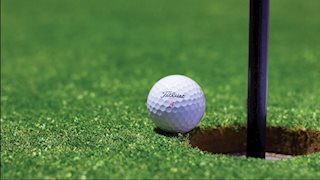 MORGANTOWN, W.Va. – The Michael Late Benedum Chapter (MLBC) of the American Association of Professional Landmen (AAPL) held its Ninth Annual Spring Charity Golf Tournament benefiting WVU Medicine Children's on May 12 at Oglebay Resort and Conference Center in Wheeling.
More than 260 golfers, guests, and volunteers attended the event to show their support of the chapter and the hospital. Through the generosity of the members and member companies who sponsored the event, the MLBC made a donation of $30,000 to WVU Medicine Children's, bringing the total raised in nine years to more than $180,000.
"The MLBC was once again honored to host such a wonderful event that benefitted such a great charity in WVU Medicine Children's," event director Jeff Junstrom said. "I am extremely proud of all our members and was very pleased to find out that our donation will go toward some great causes. All of us at the MLBC look forward to working with Children's again next year."
This year's donation will be used to purchase a pediatric scale and a rapid infuser, a vital piece of equipment used in the operating room when a pregnant woman hemorrhages.
The money donated by the MLBC is raised through selling golf sponsorships to MLBC members and member companies. Many of the oil and gas companies drilling wells in West Virginia, Pennsylvania, and Ohio, as well as the service companies and law firms that support the oil and gas companies, are the sponsors. It's also common to have members make individual donations.
"The American Association of Professional Landmen have generously provided WVU Medicine Children's with financial support to purchase lifesaving equipment to be used throughout the hospital," Cheryl Jones, R.N., director of WVU Medicine Children's, said. "This will aid our staff in providing the highest quality of care for our patients."
The MLBC is a local association of the AAPL, with more than 1,500 members engaged in all forms of land-related activities with the oil, gas, and mineral industries. MLBC membership is comprised of landmen working throughout the Appalachian Basin states. Many landowners in these states often times recognize landmen as the face of the oil and gas industry as they have negotiated oil and gas leases or pipeline right-of-way agreements with them. Members of the MLBC have adopted the AAPL's Code of Ethics and Standards of Practice and are required to represent the industry in a professional and ethical manner. The MLBC holds monthly meetings throughout the region and promotes education, ethics, philanthropy, and networking.
For more information: Angela Jones-Knopf, Manager of Media Relations, 304-293-7087