Griffith named WVU Medicine vice president of cancer services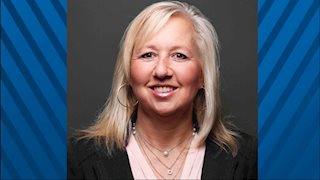 MORGANTOWN, W.Va. – Niesha L. Griffith, a graduate of the West Virginia University School of Pharmacy, has returned to her alma mater as vice president of cancer services for WVU Medicine. She began her new role Sept. 13.
In her new position, Griffith will serve as the administrative leader of cancer services for WVU Medicine. While collaborating with hospital administrators and physician leaders, she will provide overall direction of the strategic, operational, clinical, financial, and administrative functions associated with cancer services.
"Providing top quality cancer care is crucial to the citizens of the region, and we believe Niesha will be a valuable asset in helping us to expand the scope and level of our care," Albert L. Wright Jr., president and CEO of WVU Medicine, said. "Part of our growth process is identifying areas of need and possible partnerships and collaborations with providers and organizations in the region."
The WVU Cancer Institute is building a statewide network of cancer facilities focused on delivering the highest quality cancer care. In addition to its Morgantown location, the WVU Cancer Institute has a presence in Martinsburg, Parkersburg, Fairmont, and Elkins, as well as in Oakland, Maryland.
"We're creating a network of cancer facilities with one goal in mind – to improve cancer care for West Virginians and others in the region," Wright said. "We want our patients to receive the highest quality of care and to have access to the best treatments, technologies, and clinical trials."
Griffith will work closely with the clinical leaders at the WVU Cancer Institute.
"Optimal care of patients with cancer involves many different medical subspecialties and support services, which need to operate in close coordination," William Petros, Pharm.D., professor and Mylan Chair of Pharmacology and director of the WVU Cancer Institute, said. "Niesha has been recognized as a national leader in cancer services and will certainly accentuate a key component of the Cancer Institute's mission: to provide excellent care for our patients and their loved ones."
Griffith, a native of Charleston, was formerly the administrator for oncology pharmacy and infusion services at the James Cancer Hospital and Solove Research Institute, a component of Ohio State University's Comprehensive Cancer Center.
She also served at Ohio State in a faculty role and as its health system's pharmacy administration residency program director.
After receiving her bachelor's degree in pharmacy from WVU, Griffith completed an accredited residency in hospital pharmacy at Ohio State University's Wexner Medical Center and a master's degree in hospital pharmacy administration from Ohio State.
For more information: Angela Jones-Knopf, Manager of Media Relations, 304-293-7087