Health Sciences to join self-empty trash, single-stream recycling program December 19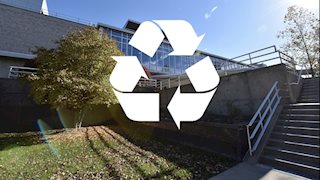 West Virginia University Health Sciences will be the latest campus to join the University-wide recycling and empty-your-own trash plans starting the week of December 19th.
Notifications alerting employees to the change will be placed in their offices. This notification, along with a newly installed recycling bin, will signal the start of this program.
Most WVU buildings have already adopted single stream recycling and empty-your-own trash plans, beginning in 2014. Recycling increased 60 percent after adopting the new system, keeping tons of trash out of landfills and reducing costs.
All the types of recyclables will now go in one bin. The materials will be sent off-campus to be sorted.
There are many benefits to adopting this new recycling system on campus.
More types of materials accepted (plastics #1 to #7, glass, steel cans)
Easier to understand what goes in each bin
More numerous, visible, consistent bins
Easier for campus service workers to remove recycling
Cost savings from trash tipping fees and income from sale of recycling commodities
Office trash can be emptied in new hallway stations that include a recycling bin and trash bin together. Each station will also have a bag dispenser for those who wish to line their cans. Custodians will empty these hallway stations and collect waste from public spaces, conference rooms, break rooms, and restrooms.
Attached is a recycling guide that includes what items are accepted under the single stream recycling system. In addition, please visit recycle.wvu.edu to learn more about single stream recycling, its benefits, frequently asked questions, and to track WVU's progress in diverting more waste from landfills.
If you have questions or comments, please contact Traci Knabenshue, sustainability director at WVU Facilities & Services, at traci.knabenshue@mail.wvu.edu or 304-293-7916