Today is deadline to receive flu vaccine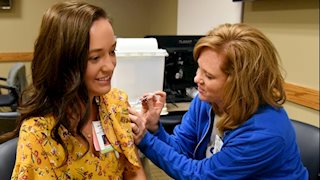 WVU Medicine's influenza vaccination campaign is underway. All staff, providers, residents, and volunteers across the organization are, once again, required to receive the flu vaccine, unless they have an approved medical or religious exemption. View the policy.
The deadline to receive the vaccine is Tuesday, Dec. 5.
Flu shots are available at Employee Health and off-site locations at scheduled days and times. Employees should complete their ReadySet flu survey prior to receiving the vaccine.
Employee Health is open weekdays from 6:30 a.m.-4:30 p.m. The clinic is located on the second floor of J.W. Ruby Memorial Hospital, near the 2 West waiting room.
For employees working off-campus, Employee Health will be sending a nurse to these locations to administer the vaccine. The schedule will be posted soon.
If you are requesting a medical exemption for the flu shot, your primary care provider will need to sign a medical exemption form. You will need to submit the signed exemption form to Employee Health and complete your online seasonal flu survey in ReadySet by Tuesday, Nov. 7.

If you are requesting a religious exemption for the flu shot, you will need to submit a completed religious exemption form to Employee Health by Tuesday, Nov. 7.

If you receive your flu shot from a provider outside of Employee Health, proof of the immunization must be provided to Employee Health in order to be compliant with the requirement for mandatory vaccination. You must bring your flu immunization record to Employee Health by Tuesday, Dec. 5, to fulfill the requirement.
Employees with questions about the flu vaccine are encouraged to review these FAQs from the Centers for Disease Control and Prevention.