Local Medical Students Match to Residencies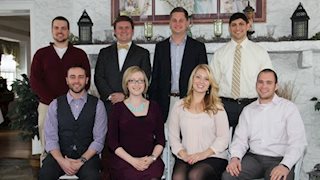 L-R- Back Row, Wayde Gilmore (Anesthesia, Lexington, KY), Rob Ciancaglini, (Pediatrics, Hershey, PA) Casey McRoy (Radiology, Baltimore, MD), Nick Corridoni, (Radiology, Philadelphia, PA)
L-R-Front- Andrew Vucelik, (Emergency Medicine, Morgantown WV) Kalah Ainsworth, WVSOM, (Family Medicine, Harpers Ferry, WV) Alexandra Reynolds, (Anesthesia, Morgantown WV). Brian Grisez, (Orthopedic Surgery, Morgantown, WV).
Martinsburg, WV – West Virginia University School of Medicine Eastern Division celebrated Match Day on March 20. On that day, eight fourth year medical students learned their destiny for the next 3-5 years. Match Day is the day when fourth year medical students all around the country find out where they will be pursuing their professional medical residency and in what specialty.
Match Day is coordinated by the NRMP, the National Resident Matching Program. This year approximately 20,000 U.S. allopathic (MD) medical school seniors compete for 30,212 residency positions in the United States. The Match is also open to foreign medical school graduates, so it's a very competitive environment, with more than 41,000 total applicants. It provides an impartial way for students to be paired to residency programs and a way for residency programs to fill open spots.
Students visit and interview with various residency programs throughout their fourth year, apply online months ahead ranking their choices in order of desirability, and then wait until the day comes. Envelopes are delivered and all fourth year students learn their destiny on the same day. Most students are placed in the first round of the match process, but for those not placed there are additional chances to find a residency spot, in the supplemental offer and acceptance program.
In Martinsburg, fourth year medical students, along with their families and WVU School of Medicine faculty and administrative staff celebrated the occasion with a luncheon at the Purple Iris. One by one, each student opened the envelope from the National Resident Medicine Program, announced their placement, the location and type of residency. For most it's a culmination of more than 20 years of education, and they are both relieved and excited.
From the 2015 Eastern Division class, three students will go to the WVU School of Medicine in Morgantown to train in anesthesiology, orthopedic surgery, and emergency medicine. Of the remaining five students, one will travel to Seattle, Washington to train in general surgery, one will train in diagnostic radiology at the University of Maryland Medical Center in Baltimore, one will train in diagnostic radiology at Temple University Hospital in Philadelphia, one will enter a pediatric residency at Hershey Medical Center in Pennsylvania, and one will begin a residency in anesthesiology at the University of Louisville School of Medicine in Kentucky. One student from West Virginia School of Osteopathic Medicine also participated and matched to the local WVU residency in Family Medicine at Harpers Ferry.
Residency training typically takes three to five years. Residents practice medicine under the supervision of experienced physicians before being certified in a specialty. Not all graduating medical students get matched.
"In a year where the number of residency positions are far fewer than the number of applicants, we are extremely proud of the residency Match success of our regional campus students," stated Konrad C. Nau, MD, Dean of the WVU School of Medicine - Eastern Division. "Our Eastern Division students each matched in their first or second choice programs, which is significantly better than the national average."
WVU Health Sciences Center Eastern Division has graduated more than 80 medical students since 2005, many of whom returned to the Eastern Panhandle to practice medicine after completing their residencies.