Medical students raise over $10K to help fight Multiple Sclerosis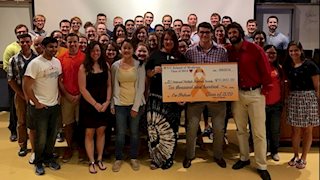 First-year medical students from the West Virginia University School of Medicine recently raised awareness about multiple sclerosis and over $10,000 for the West Virginia Chapter of the National Multiple Sclerosis Society through a "Running Man Challenge" video that included throw down dance moves from medical students and a surprise cameo from the vice dean of Medical Education, Norman Ferrari, M.D.
The nearly four-minute Running Man Challenge video on YouTube has close to 700,000 views and shows the students getting into the groove in various settings, including study rooms, labs, a locker room and among the historic pylons in the atrium of the Health Sciences Center.
"We saw the running Man Challenge going around and said 'Hey we should put one together for our med school class and me being the video guy in our class was like 'Yeah let's do it,' and it wasn't until later whenever we realized this could be really big that we want to make it for multiple sclerosis awareness, in honor of one of our professors who was affected with multiple sclerosis while he was in med school," said Derek Andreini, WVU medical student and video director.
A representative from the West Virginia Chapter of the National MS Society visited WVU to thank the
first-year medical students and provide a congratulatory pizza celebration following their final exams.
Despite the fun in involving students in making the video, Andreini hopes that individuals from outside WVU will continue to support the fight against MS.
"One of the things I really want to stress is the video is cool and funny and it's great that people are watching it, but I want random people to donate, because that's the purpose," Andreini said.