MEET OUR GRADS: Brittany Irick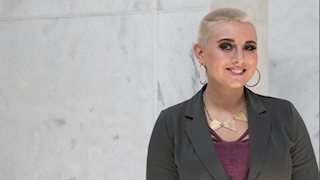 MPH Candidate, Epidemiology
What will you remember about your time at WVU?
I will always remember the school spirit.
What would you tell your freshman self?
Relax more. It only gets harder from here, but it's so worth it.
What will your degree allow you to do?
Experience greater successs.
What does public health mean to you?
To me, public health means making the world a healthier place one step at a time.
Why did you choose WVU?
I chose WVU because after completing my undergrad degree here I just fell in love with the school.
What's the best thing about the Public Health program at WVU?
The best thing about the Public Health program has been the experiences offered to me. In addition to a great education, I have had many opportunities to strengthen my professional development and make strong connections with faculty, staff and other students.
What's next for you?
To seek a fellowship that builds on my knowledge of public health.
Have you been involved with any groups at WVU?
I've loved being a part of the School of Public Health in general, but I'm especially grateful to have been a part of the Student Association of Public Health. My involvement and position within the student organization has made my time here at WVU so much more enjoyable.