MEET OUR GRADS: Claire Linton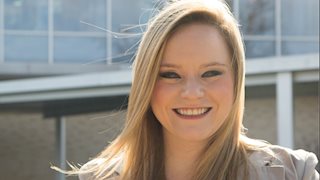 What will you always remember from WVU?
I will always remember my fellow classmates and professors at WVU that have taught me so many important things throughout my time here. I will be able to take the lessons I have learned at WVU into other parts of the state and show my mountaineer heritage. I will always be proud to say that I am a Mountaineer!
What would you tell yourself as a freshman?
I would tell my freshman self to study hard, nursing school is not going to be easy! I would also tell my freshman self to find friends that are going to motivate you. WVU School of Nursing is very competitive, so you want to find the individuals most like you who will motivate you to excel.
What will your degree from WVU allow you to do?
My degree will allow me to advance my knowledge and my career. My goal is to educate others so they can be experts on their own personal care. My degree will also allow me to care for others when they are at their most vulnerable.
Why did you choose the School of Nursing?
I chose WVU School of Nursing because I knew it would be the best fit for me. After many tours and lots of research I chose WVU because of the experience I would receive. WVU School of Nursing's clinical rotations are completed at Ruby Memorial Hospital, which is a Level 1 Trauma center, 3x Magnet recognized hospital, and comprehensive stroke center. With all of this being said I will graduate with over 1,000 clinical hours completed at Ruby Memorial, 250 of which were in Medical Intensive Care Unit where I had the opportunity to perform patient care for ICU patients on a 2:1 nurse to patient ratio. I have loved WVU and am very thankful that I was led here because I truly believe it was the best fit for me.
Did you always know you wanted to be a nurse? When did it "click" that this was right for you?
I always knew I wanted to be a nurse. I was diagnosed with complex epilepsy at the age of five, at which point my parents were told I would be in special needs classes for the rest of my life. However, my parents did not take that for an answer, they took me to Children's National Medical Center where I have been followed by an amazing neurology team for over 15 years. I owe all of my success to my family and Children's National Medical Center because without them I would not be where I am today! I have been truly blessed and I have always felt the need to give back in the medical field. Being a nurse I will be able to care for individuals when they are at their most vulnerable as I was cared for when I was at my most vulnerable.
Did you discover what you wanted to do while here?
While completing clinicals at WVU I decided that I want to work in an Intensive Care Unit. I love the continuity of care and how it has broadened my knowledge base in a very short about of time. I also plan to further my education and become a Nurse Practitioner.
What has made your experience unique: Do you have a sibling who's in the nursing school with you? Was there an important life event that pointed you into the direction of being a nurse? Did you start as one major, and then decide nursing was where you should be?
My twin sister, Lauren Linton, and I came to WVU together in hopes of getting into nursing school. We both knew in high school that we wanted to be nurses and decide to tackle the journey together. We both will be graduating in May 2018 and then we will both be continuing our education together. We were both recently admitted into WVU's School of Nursing BSN-DNP program. I am so excited to continue this journey with her! Nursing school has been hard, but it definitely would have been more difficult without her by my side.