MEET THE GRADS: A love of science and medical research inspired a career in medicine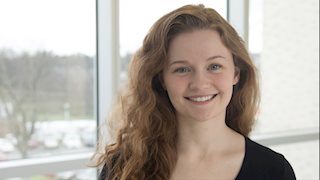 (Editor's Note: As commencement nears, WVU Health Sciences is featuring some of our most dedicated graduates. Here is the story of one of those students.)
Hurdles and challenges are inevitable on any successful path. To Whitney Sheets, they proved to be strategic in developing her love of science and medicine. Growing up in Ravenswood, West Virginia, the educational resources were not readily available to help Whitney foster an interest in scientific achievement.
"As a graduate of a small, rural high school with approximately 400 students, I wanted to attend a large university and really explore all the opportunities for learning and research that I could find," Whitney said. "Additionally, gender stereotypes are still prevalent in rural Appalachia, and women are not often supported when trying to obtain experience in the STEM fields."
For Whitney, these limitations inspired a desire to challenge herself at the university level. Determined to pursue a degree in a science, technology, engineering or math (STEM) field, she chose exercise physiology with a minor in biology at West Virginia University.
"The state's flagship university was my first and only choice, especially with its excellent exercise physiology program and rigorous Honor's College," Whitney said. "Fortunately, the well-established gender-based educational disparities in Appalachia do not extend to WVU, and over the course of my undergraduate education, I have been afforded more opportunities than I dreamed to be possible."
Driven by her experience in the exercise physiology program and the opportunity to shadow clinicians in other specialties, Whitney discovered a passion for research. She also reflects on a more personal reason for her growing interest in it.
"When my younger cousin was five, she received second- and third-degree burns, covering her body from the waist up," Whitney recalls. "After being transported to a regional hospital, the highly-trained medical staff saved her life and placed grafts that have allowed her to fully recover. Our ability to heal severe wounds is impressive, yet the techniques are expensive and often have limited efficacy. I realized that further research, such as stem cell/cell reprogramming therapies, could reduce treatment pain and scarring for burn victims, widen treatment windows, and improve chances of survival. Now, I constantly ask questions to find gaps in our knowledge, and begin to imagine how we can push past these limits and improve all types of care."
Whitney further praises WVU for supporting undergraduate students to participate in research where they get to explore both the fruits of modern medicine and the gaps that still exist.
Whitney initially began working as a research volunteer in the laboratory of Jefferson Frisbee, Ph.D., former director of the Center for Cardiovascular and Respiratory Sciences at WVU an internationally-recognized vascular physiologist, and most recently in the laboratory of Paul Chantler, Ph.D., a prominent translational researcher in the Division of Exercise Physiology at the WVU School of Medicine and at the WVU Cancer Institute.
"Dr. Chantler utilizes both preclinical and clinical approaches to research, and his laboratory is dedicated to studying the vascular complications of Metabolic Syndrome, stroke and other types of cardiovascular disease that are prevalent in Appalachia," she said. "Obesity and diabetes constitute an epidemic crisis nationwide, and I have personally witnessed their detriment on numerous neighbors and family members. Conducting research in the laboratories of Dr. Frisbee and Dr. Chantler is exposing me to a rigorous and translational atmosphere of investigation and will likely prove invaluable to my future aspirations as a medical doctor."
Asked about her future plans, Whitney says that her fascination with research continues to lead her to study new subjects. She has been accepted into the West Virginia School of Osteopathic Medicine in Lewisburg, West Virginia, beginning fall 2017.
"Over the past year, I have been seriously contemplating my long-term goals," she said. "I am proud to have been accepted at the West Virginia School of Osteopathic Medicine, and will be beginning medical school there this fall. While studying medicine has always intrigued me, I am stimulated by the idea of a career pushing the envelope of biomedical science. As I proceed through medical school and residency and on into my career as a physician, I hope to continue to engage in medical research."
The School of Medicine will hold three commencement ceremonies during the weekend of May 12-14, 2017: Ph.D. candidates at 9:00 a.m. on Fri., May 12 in WVU Health Sciences's Okey Patteson Auditorium; medicine doctoral candidates at 6:00 p.m. on Fri., May 12 at the Creative Arts Center; and, professional programs candidates at 4:00 p.m on Sun., May 14 at the WVU Coliseum. All ceremonies will be webcast live at www.webcast.wvu.edu. Following the events, videos will be available for viewing on WVU's official YouTube channel, WestVirginiaU. For more information, visit WVU's commencement website at www.graduation.wvu.edu.
For news and information on the WVU School of Medicine, follow us on twitter @WVUMedSchool, like us on Facebook or visit medicine.hsc.wvu.edu.
--WVU--
des: 4/21/17
Contact:
Tara Scatterday
Director, Communications and Marketing
WVU School of Medicine
tdscatterday@hsc.wvu.edu | 304-293-0630