MEET THE GRADS: Small town, southern West Virginia student finds her place at West Virginia University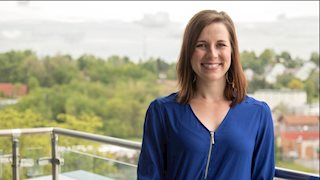 (Editor's Note: As commencement nears, WVU Health Sciences is featuring some of our most dedicated graduates. Here is the story of one of those students.)
As a small town, southern West Virginia girl, Paige Cook wanted to attend college where everyone knows each other by name. A native of Pineville with a population of 648 and Wyoming East High School graduate, Paige was looking for a family atmosphere in a medical school. She found it at the West Virginia University School of Medicine.
"I chose WVU for multiple reasons with the most important being the family atmosphere of the school," Paige said. "I am from a very small town in southern West Virginia where everyone knows one another, and I was looking for this same atmosphere for my medical education. I feel as if this was the most important factor when I was looking at different schools."
Paige says she always knew that she wanted to pursue a career in which she could be of service to others in some capacity. She had the opportunity to visit Mahatma Gandhi Hospital in Jaipur, India for a couple of weeks as an undergraduate student. This is where she says she discovered her passion for global health and decided that she wanted to pursue a career in medicine to help others.
Paige earned her bachelor of science degree in Biology from Concord University in Athens, West Virginia and made the transition to Morgantown for medical school. She credits the teachers and administrators at WVU with making her feel at home and dedicating extra time and effort and says that she feels as if the faculty, administration, and all the people 'behind the scenes' here at WVU are what really sets this place apart. "They are truly invested in my education and me as a person, and I am so thankful to have been given the opportunity to work with them," Paige said.
Paige made sure she was involved in extra-curricular activities as a medical student at WVU, despite the great demands on her time. She served as a Pylons Ambassador, a member of HOST (Heralds of Student Tours) and mentored fellow medical students and other professional students. "All of these programs allowed me to interact with current medical and professional students as well as prospective medical students, and I thoroughly enjoyed being able to share my experiences here at WVU with other students," she said.
Paige matched in Internal Medicine/Pediatrics at WVU during the National Residency Matching Program's annual process that pairs prospective applicants with residency programs. While committed to including global health and medicine as part of her career, Paige is unsure about her plans following the completion of her training. However, she's emphatic about her desire to give back to her home state and the people of West Virginia.
"WVU has given me an unbelievable opportunity with a great medical education foundation, and I feel very fortunate to be continuing my education here throughout residency," Paige said. I hope to be able to give back to the people of my home state following the rest of my training."
Paige and about 4,500 other students will receive their degrees Friday, Saturday and Sunday as West Virginia University brings another academic year to a close.
The School of Medicine will hold two commencement ceremonies on Sunday, May 15, 2016; one for medicine doctoral candidates at 8:30 a.m. and one for professional programs candidates at 12:30 p.m. Both ceremonies will be held at the Morgantown Event Center and are by invitation only. All commencement ceremonies will be webcast live at www.webcast.wvu.edu. Following the events, videos will be available for viewing on WVU's official YouTube channel, WestVirginiaU. For more information, visit WVU's commencement website at www.graduation.wvu.edu.
For news and information on the WVU School of Medicine, follow us on twitter @WVUMedSchool, like us on Facebook or visit medicine.hsc.wvu.edu.
Story by Tara Scatterday
School of Medicine Communications
Photos by David Ryan
University Relations/Health Sciences
-WVU-