National dental research grant awarded to WVU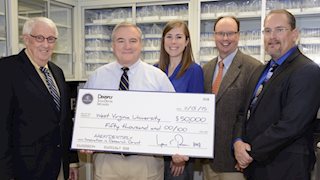 $50,000 to support innovation in endodontics
MORGANTOWN, W.Va. – A $50,000 research innovation award in endodontics has been awarded to the West Virginia University School of Dentistry.
Endodontics is the study of the tooth root, dental pulp and surrounding tissue.
The American Association of Endodontists (AAE) Foundation /DENTSPLY Innovation in Research Grant will equip a dedicated endodontics research laboratory that will be used by faculty and students to prepare experimental samples and specimens. The 4,000-square-foot lab was developed in collaboration with the West Virginia Clinical and Translational Science Institute.
David Funderburk, D.D.S., M.S., an AAE Foundation Trustee and School of Dentistry alumnus, says WVU has a tremendous track record of advancing the endodontic specialty.
"The AAE Foundation and DENTSPLY Tulsa Dental Specialties are honored to present this award in recognition of WVU's new initiatives to promote excellence in research," Dr. Funderburk said.
The grant is given annually to one or more universities, chosen based on their achievements in research or their future goals for developing a research initiative at their institution. The intent is to highlight and promote excellence in endodontics research.
"The generous support of the AAE Foundation and DENTSPLY will greatly enhance our endodontics research program here at West Virginia University," said Anthony (Tom) Borgia, D.D.S., dean of the WVU School of Dentistry. "With this gift, residents and faculty will have new tools to advance our mission to address the present and future oral health needs of the citizens of West Virginia and beyond."
The AAE Foundation seeks to improve oral health by securing contributions, shepherding resources and sharing grant funds that support research, generate new knowledge and enhance endodontic education.
The WVU School of Dentistry is the only dental school in West Virginia and has educated more than 80% of the state's dentists and hundreds of dental hygienists.
The grant was made through the WVU Foundation in conjunction with "A State of Minds: The Campaign for West Virginia's University." The $1 billion fundraising effort runs through December 2017.