National healthcare expert to deliver Jenab lecture, nursing students to be honored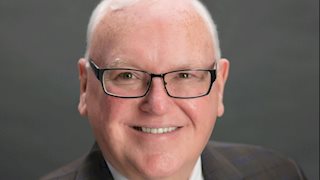 Dr. Michael Bleich, a nationally and internationally recognized healthcare expert, will present "Nursing Leadership: A Call to Action" at the West Virginia University School of Nursing's 2017 Lorita D. Jenab Lectureship. The event will be held on Thursday, April 27, in Okey Patteson Auditorium at the Health Sciences Center beginning at 6 p.m.
Dr. Bleich, a native of Wisconsin, is president and CEO of NursDynamics, LLC. He has served in numerous clinical, consultative, service, academic and association leadership positions, including president and dean of the Goldfarb School of Nursing at Barnes-Jewish College, dean of the School of Nursing at the Oregon Health and Science University and associate dean at the University of Kansas.
A recognized scholar and thought leader, he has addressed national and international audiences and was one of five nurses on the committee that wrote the Institute of Medicine's "The Future of Nursing: Leading Change, Advancing Health." He also authored "Wisdom at Work: the Importance of the Older and Experienced Nurse in the Workplace," published through the Robert Wood Johnson Foundation. His works, "Men in Nursing: Understanding the Challenges Men Face in this Predominantly Female Profession" and "Analysis of the Nursing Workforce Crisis: a Call to Action," were published in the American Journal of Nursing.
Dr. Bleich has a diploma, BSN, MPH and PhD from Midwestern Schools. He has completed fellowships with the Robert Wood Johnson Executive Nurse Fellows Program, the Wharton School at the University of Pennsylvania and the WK Kellogg Foundation. He is a member of the American Academy of Nursing and the National Academies of Practice, and proudly serves as president of CGFNS International and as immediate past president of Friends of the National Institute of Nursing Research, which both advance science and ensure workforce mobility, quality and safety.
The Jenab lecture is named in honor of the Lorita D. Jenab who served as the second dean of the WVU School of Nursing. The School of Nursing will present various academic honors immediately after the lecture, as well as induct the newest members of Sigma Theta Tau International – Alpha Rho Chapter nursing honorary.
The event is free and open to the public. For news and information on the WVU School of Nursing, follow us on Twitter @WVUSoN, like us on Facebook or visit nursing.wvu.edu.
For more information: Tara Curtis, WVU School of Nursing, 304.581.1772
tec