NIH Summer Internship Program announced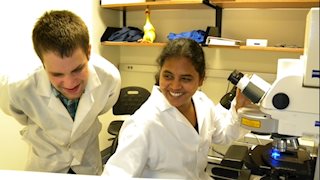 Multiple Opportunities available
The NIH Summer Internship Program (SIP) is now accepting applications for summer 2017. In addition to full-time biomedical research opportunities, we provide career development opportunities for all summer interns, including workshops, courses, journal clubs, and access to the OITE Career Services Center. We invite you to join our diverse community of over 5000 trainees for great science and outstanding career development resources.
The NIH Summer Internship Program (SIP) accepts high school, undergraduate, graduate and professional (medical/dental/pharmacy/nursing, etc.) school students in biomedical, social science, behavioral, and computational fields who will be at least 16 years of age by June 15, 2017. Be sure to watch our YouTube video and read the tips for applicants before starting your application. The SIP application deadline is March 1, 2017, but students who apply early have an advantage. NOTE: If you apply to one of SIP subprograms, they have earlier deadlines (see below).
http://www.training.nih.govSIP includes several subprograms designed to help build a diverse and inclusive scientific workforce. PLEASE NOTE: Although you use the online SIP application to apply for all these subprograms, eligibility criteria, application deadlines, and program curricula vary (view a program comparison chart). Please read each program's description carefully to decide which, if any, will best fit your needs. If you apply to one of these programs, you must submit your application before the subprogram deadline AND contact your references to let them know the deadline for receipt of their letters.
o If you are currently a community college student, the NIH Community College Summer Enrichment Program (CCSEP) is for you. CCSEP provides students an opportunity to participate in special group activities to prepare for academic transitions and to explore careers in biomedical research and healthcare. The CCSEP application deadline is January 4, 2017.
o The Amgen Scholars Program at NIH (AMGEN) is a residential, summer internship program for undergraduate students (rising college juniors or seniors) committed to pursuing PhD and combined degree programs (MD/PhD, DDS/PhD) in the sciences. Students with experience in health disparities and a keen interest in learning more about their biological, environmental, social, and genetic causes are especially encouraged to apply. The AMGEN application deadline is February 1, 2017.
o The Graduate Summer Opportunity to Advance Research (GSOAR) program is designed for recently matriculated, first or second year graduate students enrolled in a biomedical PhD program, especially those interested in integrating translational approaches to research design. Students completing a master's degree who are transitioning into a biomedical PhD program are also eligible to apply. Students from diverse backgrounds and students who have faced disadvantages that impacted their educational or research opportunities earlier in their educational careers are especially encouraged to apply. The GSOAR application deadline is January 4, 2017.