Professionals focus on West Virginia health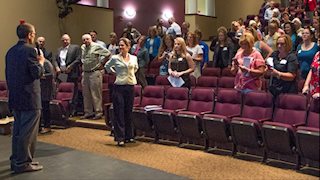 Continuing education session draws 100
BUCKHANNON, W.Va. – More than 100 health professionals from across West Virginia gathered today (June 1) in Buckhannon to share information on community approaches to the state's health issues.
The Try This for Health Professionals day was held at West Virginia Wesleyan College, one day ahead of the fourth annual Try This West Virginia conference that will take place Friday and Saturday.
Physicians, nurses and dieticians shared experiences and techniques that can be applied in their practices to help patients and their communities.
"We all love what Try This West Virginia is doing to help get us off the worst health lists, and we want to draw more West Virginia health professionals into this movement," said Mark Cucuzzella, M.D., professor of family medicine at the West Virginia University School of Medicine Eastern Campus. "Try This gives our state a chance to be a national model for healthy change from the grassroots."
The Health Professional Day was sponsored by the WVU School of Medicine, the Future of Nursing West Virginia and the West Virginia Academy of Nutrition and Dietetics, all Try This West Virginia partners. Try This West Virginia is a coalition of 20 statewide groups that also includes West Virginia Healthy Kids and Families, West Virginia Community Development Hub, the Bureau for Public Health, the State Office of Child Nutrition and 15 other partners.