Back to

News
Project Smiles fundraiser helps with treatment planning
Philanthropic effort bringing oral healthcare to as many patients as possible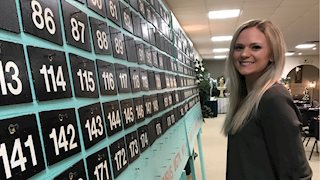 Event Date: 02/29/2020
from 06:00 PM - 10:00 PM
Extensive and comprehensive oral healthcare treatment plans can add up in time and expense.
Many WVU Dental patients require treatment plans with a number of phases.
Patients treated by student dentists receive significantly discounted rates in appreciation of their commitment to care through the West Virginia University School of Dentistry.
However, even with student clinic rates, there are patients who struggle to cover cost.
Members of Delta Sigma Delta Chi Chi launched Project Smiles as a philanthropic effort to bring oral healthcare to as many patients as possible.
The goal is to help patients avoid ending their treatment plans because of financial burden.
An annual elimination dinner raises funds for Project Smiles to assist qualifying, low-income patients with treatment costs.
Tickets are on sale for the Saturday, February 29, 2020 elimination dinner.
Each ticket is $35 and is good for one dinner and a single chance at a $1,000 prize.
Doors open at the Morgantown Knights of Columbus at 5:30 p.m. It is located at 379 North Parkview Drive, Morgantown, WV.
Dinner and drawings begin at 6:00 p.m. One by one, tickets are drawn eliminating that ticket holder from winning the $1,000. The winner of the prize is the last person holding a ticket. The final ticket holder does not have to be present to win.
For information, reach out to Marcie Kanosky, mkanosky@mix.wvu.edu.