Promotions, Donation Options Planned for Pink Meet WVU Gymnastics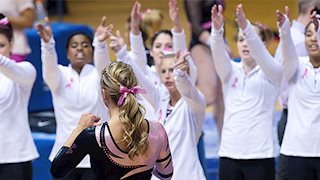 MORGANTOWN, W.Va. – Several exciting promotions, as well as options for fans to donate and give back to the local community, are planned for the West Virginia University gymnastics team's Wendy M. Roach Pink Meet Invitational, set for Sunday, Feb. 21, at 2 p.m., at the WVU Coliseum.
Named in honor of former Mountaineer gymnast Nicole Roach's (2009-12) mother, fans are encouraged to wear pink Sunday afternoon to promote awareness to fight breast cancer. The first 1,000 fans in the door will receive a free WVU Cancer Institute pink rally towel.
Fans also will have several donation options. Starting today, supporters can donate $10 by texting WVU Cares to 85944 (carrier billed option). Additionally, the Mountaineers will accept sundry item gifts, such as scarves, nail polish, books, body lotion, candy and socks, for donation to Morgantown's Betty Puskar Breast Care Center. The donation table will be located just inside the Coliseum Blue Gate.
Finally, Mr. Twister, a balloon artist, will be on the main concourse prior to the meet and will provide balloon art and face painting for kinds in attendance.
Tickets for Sunday's meet against No. 22-ranked Kentucky are on sale now at
WVUGAME.com
and also will be on sale at the Blue Gate on meet day. Tickets are $5 for adults, $3 for youths and senior citizens and $2 for groups of 10 or more. WVU students are admitted for free with a valid WVU Student I.D.
ss: 02-17-16