Quality Service Award recipient announced at Berkeley Medical Center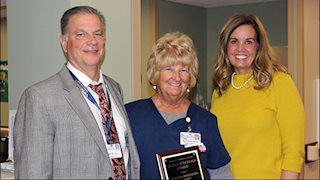 MARTINSBURG, W.Va. – Jeanie Henderson, R.N., oncology nurse manager, was recently named WVU Medicine Berkeley Medical Center's Quality Service Award winner for April 2017.
Each month, the hospital's Service Award Committee selects a Quality Service Award recipient. Henderson was nominated by the spouse of a patient, who stated, "Jeanie has a genuine and comforting demeanor. She goes above and beyond the call to take care of the patients and families on her unit. During my husband's hospitalization, I stayed with him 24/7, and Jeanie and the staff made me feel as comfortable as my husband. Her compassion, care, concern, skills, and genuine love of her job make her a treasured gem of the hospital!"
Criteria for selection as a Quality Service Award recipient include: demonstrating a consistently high level of productivity and quality of work along with a high degree of initiative in performing work responsibilities; displaying exceptional dependability; exhibiting effective relationships with others; displaying a commitment to service and serving the Berkeley Medical Center community; and meeting the criteria for the system's mission, vision, and values.
Nomination forms for the Quality Service Award are available at locations throughout the Berkeley Medical Center campus. Anyone who witnesses an employee displaying outstanding service is encouraged to complete and submit a nomination form.
For more information: Teresa E. McCabe, WVU Medicine Eastern Panhandle Vice President of Marketing and Development, 304-264-1223