Receptions held to honor Sue Johnson-Phillippe, president and CEO of St. Joseph's Hospital of Buckhannon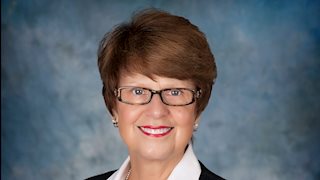 BUCKHANNON, W.Va. -- Receptions were held to honor the president and CEO of St. Joseph's Hospital, Sue Johnson-Phillippe, in recognition of her retirement. A community reception was held Nov. 3 in the Greek Alumni Room on West Virginia Wesleyan's campus followed by a hospital reception on Nov. 18. Attendees gathered to thank Johnson-Phillippe for her service and to wish her well.
"Sue has led the St. Joseph's family brilliantly over the last seven years," Terry Cronin, chairman of St. Joseph's Hospital's Board of Trustees, said. "She has been a true leader in making such wise choices for the hospital, in demonstrating a passionate commitment to our mission, in always choosing a respectful and collaborative approach, all with kindness and concern for others. It has been a true joy spending time with her in service to our community. We are very proud of her accomplishments and wish her well in her retirement."
Johnson-Phillippe began her role as interim CEO of St. Joseph's Hospital in July of 2008, becoming the permanent CEO in November of that year. Under her leadership, she recruited physicians needed to serve the community, including a cardiologist, urologist, internal medicine specialist, obstetricians/gynecologists, and family physicians. She led the conversion of the hospital to critical access status, ensuring the financial sustainability of the hospital. She opened a Skilled Nursing Facility, giving the community access to rehabilitative care close to home, and created the Palliative Care Unit, an end-of-life suite located within the hospital.
She established a relationship with West Virginia University (WVU) Emergency Medicine to staff the hospital's Emergency Department with WVU physicians and built the PromptCare into a strong walk-in clinic to serve the community. Most recently, she has overseen the successful transition of St. Joseph's Hospital into the United Hospital Center/WVU Medicine family.
Johnson-Phillippe also served the community on the Upshur County Development Authority Board of Directors, the Buckhannon Rotary Club, Buckhannon-Upshur Chamber of Commerce, and volunteered with Upshur County Literacy. On a state-wide level, she served as the chairwoman of the West Virginia Hospital Association (WVHA) and with the State and Regional Trauma Emergency Institute. In her capacity as chair of WVHA, she was appointed by the West Virginia Secretary of Health and Human Resources to serve on the State Innovation Model Steering Committee.
During her tenure, the hospital was recognized as Industry of the Year by the Buckhannon-Upshur Chamber of Commerce in 2013; Johnson-Phillippe was recognized as Business Woman of the Year by the Chamber in 2014; its Skilled Nursing Care Facility was named one of the "Best in the State" by U.S. News and World Report for the fifth year in a row in 2014; and the hospital was recognized as one of America's Best Emergency Care hospitals by the Women's Choice Award in 2014 and 2015.
Robert Blake, M.D., chief of staff at St. Joseph's Hospital, said, "From her first day at St. Joseph's Hospital, Sue's leadership inspired an infectious accountability and an unwavering resolve that changed the culture by bringing out the best of every employee. She possesses the courage and diligence to move mountains, and she did. I have the utmost respect for Sue, not only for what she has done for St. Joseph's Hospital, but also as a person."
"Sue Johnson-Phillippe has taken St. Joseph's Hospital into a new era of healthcare, which is more and more sophisticated and complex," Sister Francesca Lowis, vice president of mission integration, said. "She has been a great motivator and mentor to the physicians and staff and a compassionate advocate for patients and their families. She leads by example and expects the best efforts from everyone. Sue has become not only a great CEO to the hospital but a treasured friend to me."
"Being able to serve the mission of St. Joseph's Hospital, its Board of Trustees, and Pallottine Health Services has been an extraordinary privilege," Johnson-Phillippe said. "It has been a capstone experience that has contributed to a dynamic transformation of the hospital on every level, paving the way for the organization to be sustainable for the future."
--WVU MEDICINE--
For more information: Lisa A. Wharton, St. Joseph's Hospital Vice President of Public Relations, Marketing, and Foundation, 304-473-2138