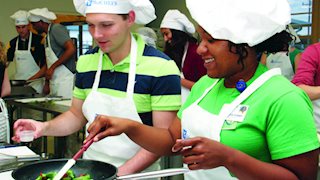 Medical students gain more tools to help patients be well
The MedCHEFS program at WVU Eastern Division is breaking new ground by emphasizing nutrition and exercise in interactions between medical doctors and patients. The Medical Curriculum in Health Exercise and Food Sciences (MedCHEFS) provides medical students with effective tools to help them change health problems like obesity, diabetes, and heart disease, which are most common in West Virginia.
Leaders at the WVU Health Sciences Center Eastern Division have changed the curriculum for future physicians through this innovative program, and it aims to expose medical students to the science of nutrition and exercise in a way that will help them provide sound patient care and advice regarding healthy lifestyle behaviors.
Rosemarie Cannarella Lorenzetti, MD, MPH, who is part of the core team that designed this curriculum, said the program aims to teach skills that will provide young physicians with the self-assurance needed to speak about diet and exercise and evaluate a patient's readiness for lifestyle change through motivational interviewing — something that isn't as easy as it may sound.
"There's a certain technique to speak to patients that can be more effective to create change. This motivational interviewing will enable our students to help patients make positive changes in their lives," Dr. Lorenzetti said. "What's the difference between telling a patient to exercise more and asking them what they can do for 15 minutes three days a week to get more exercise? There's a big difference between those two questions."
To emphasize the connection that physicians need to make with the lifestyles of their patients, MedCHEFS has engaged with the community in creative ways. One of those methods was to work with the chef at a local community college to start a teaching kitchen. Four times a year, the medical students practice cooking skills and healthy food preparation, so they can better instruct patients on how to do the same.
"We brought in local chefs who have cooked for people with diabetes in their restaurants," Lorenzetti said. "A dietitian and her assistant met the students at a local grocery store and took them up and down the aisles, teaching them how to shop and convey that to their patients."
Fourth-year medical student Casey McRoy completed the MedCHEFS program in May. He says lectures were focused on health policy, better snack and meal choices, exercise techniques, relaying information to patients in layman's terms, and the dangers of food fads like aspartame sugar or high fructose corn syrup.
"Navigating the complex world of corporate food advertising and government health policy seemed like an insurmountable task before, but now, I have received some of the tools to continue to learn and help others be aware of these issues," McRoy said.
MedCHEFS not only provides the knowledge to discuss nutritional information and give advice on physical activity as it relates to common metabolic conditions such as hypercholesterolemia and hypertension, but it helps the students to identify and reconcile their own biases toward the care of patients with a lifestyle that may be different from their own.
"If you're a doctor who doesn't smoke, you still have to take care of smokers who cause their own emphysema. If you're a doctor who runs every day, you still have to take care of patients who are inactive and have diabetes. You may not like that people are inactive, but you still have to care for them," said Lorenzetti. "These biases are hard to change, but if you are aware of them, you will be able to give better care."
When students were surveyed before and after completing the MedCHEFS program, results showed a better appreciation of how important it is to discuss nutrition and exercise with their patients, and students' confidence in their ability to talk about these areas increased.
"I am much more confident and comfortable discussing nutrition and exercise with patients when the opportunity arises. I am bringing up these issues more often with patients than I was before," McRoy said. "Obesity is an epidemic we are all aware of, and WVU should continue this course because the task of making America healthier will be on two fronts – the healthy policy arena and the information we give to patients every day about smart choices."
The WVU School of Medicine is currently exploring how to incorporate the MedCHEFS program into the curriculum at its Morgantown and Charleston Division campuses.