Renowned neurosurgeon joins WVU Medicine Berkeley Medical Center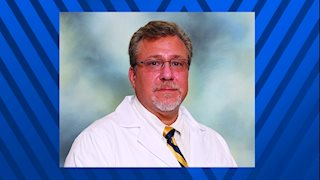 MARTINSBURG, W.Va. – WVU Medicine and Berkeley Medical Center are proud to announce the appointment of John Caruso, M.D., board-certified neurosurgeon, to the medical staff of Berkeley Medical Center and the WVU Medicine Department of Neurosurgery.
Dr. Caruso has provided neurosurgery services to the tri-state region for the past 20 years, most recently at Parkway Brain and Spine in Hagerstown. On Aug. 1, the Hagerstown office became WVU Medicine Brain and Spine as Caruso was named director of Neurological Surgery at Berkeley Medical Center.
"WVU Medicine is committed to serving not only the rapidly growing Eastern Panhandle of West Virginia but also Western Maryland and Southern Pennsylvania," Caruso stated. "I am being tasked with leading this effort as director of neurological surgery and assistant professor of neurosurgery for the WVU School of Medicine."
According to Caruso, a Martinsburg office will open in September, and two office locations will continue as part of the design to provide regional neurosurgery care. "A rapid expansion of services is underway as a Neuroscience Center on the Berkeley Medical Center campus is in the planning stages," Caruso added.
Outpatient neurosurgery services will continue in Hagerstown and have been recently introduced in Martinsburg at Berkeley Medical Center. Caruso will also be on staff at WVU Medicine in Morgantown in the event more complex cases require a tertiary inpatient setting.
"Our expansion reflects the demand for WVU Medicine services not only in the Eastern Panhandle of West Virginia but also the surrounding region," Charles Rosen, M.D., Ph.D., chair of WVU Medicine Neurosurgery, said. "We are committed to improving the health of the citizens of this region."
Caruso received his neurosurgery training at the Eastern Virginia Medical School and at the University of New Mexico Graduate School of Medicine under Ed Benzel, M.D., international pioneer in spine biomechanics, who is currently at the Cleveland Clinic.
Caruso provides comprehensive neurosurgical care with special interests in the treatment of complex, traumatic, degenerative, and oncological conditions of the spine, as well as state-of-the-art minimally invasive surgical techniques. Intracranial and peripheral nerve conditions also remain an important part of his practice.
"WVU Medicine has made an aggressive commitment to building infrastructure and investing in innovative technologies to accomplish the goal of state of the art neuroscience and neuromuscular care for our region," Berkeley Medical Center President and Chief Executive Officer Anthony P. Zelenka said. "We welcome Dr. Caruso to WVU Medicine here in the Eastern Panhandle. He brings a wealth of knowledge and will be a tremendous asset to our patients and our community."
WVU Medicine Brain and Spine is located at 13 Western Maryland Parkway, Suite 106 in Hagerstown. The Martinsburg office, located in MOB3 at 880 Tennessee Avenue, is scheduled to open mid-September. For more information or an appointment, call 240-513-4591.
For more information: Teresa E. McCabe, WVU Medicine Eastern Panhandle Vice President of Marketing and Development, 3