Research Poster Winners Announced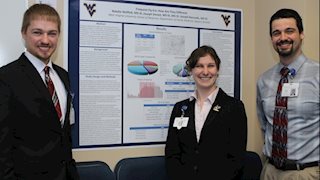 West Virginia University School of Medicine Eastern Division held its sixth annual Faculty Development and Research Symposium on April 8-9
Martinsburg, WV – West Virginia University School of Medicine Eastern Division held its sixth annual Faculty Development and Research Symposium on April 8-9. The event is a continuing education event for faculty physicians, residents and medical students – as well as an opportunity for them to showcase medical research projects in the Eastern Panhandle area.
With more than 40 research posters entered, three third year medical students were judged to be the competition winners: Joe Hansroth, Natalie Moffett, and Joe Smoot's presentation was entitled, "Frequent Fly-ERs Live Close Enough to Walk: Analyzing Trends in Frequent ED Users from Harpers Ferry Family Medicine." The award for first prize was $500.
Second place was awarded to: Anna Alappat, with co-authors, third year medical students Kelly Biedenharn, Bethany Garnand, Julie Corcoran, Joe Malone and faculty mentor, Dianna Gaviria, MD, MPH, for their project entitled, "Predictors of HPV Vaccination in Primary Care Clinics."
Author Joe Hansroth, along with co-authors, Steven Stefanic, Joseph Minardi, MD, Erica Shaver, MD, and Shelly Layman, MPH took home third place for their project: "Non-Healing Foot Wound: the Case of the Phantom Splinter."
In addition to the poster competition, there were several continuing education classes presented during the two-day event including: Shoulder and Knee Injection Techniques, Using and Teaching Ultrasound in the Office Setting, Introduction to Culinary Medicine, and Writing for Scholarly Journals: An Editor's Perspective. More than 65 medical professionals from the attended the event sponsored by the WVU School of Medicine Eastern Division.

Photo- L-R: Joe Hansroth, Natalie Moffett, and Joe Smoot