Back to

News
Rosenbaum Family House celebrates 20 years of service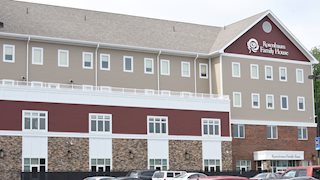 MORGANTOWN, W.Va. – The Rosenbaum Family House held a celebration on Saturday (July 27) in honor of 20 years of providing housing to WVU Medicine patients and their families.
"We are excited to be able to celebrate 20 years of service and recognize the donors who made this accomplishment possible," Teri Ford, director of the Rosenbaum Family House, said. "Each year, we host more than a thousand families who need an affordable place to stay while their loved ones receive treatment at J.W. Ruby Memorial Hospital. We take great pride in helping families in need have a place to rest and recover after long days spent at the hospital."
A patient must be 18 years of age or older and guests must live at least 50 miles from Morgantown to qualify for a room. Since it opened in 1999, Rosenbaum Family House has served more than 21,000 guests from 48 states and 14 countries. Last year, the house provided approximately 14,100 meals to guests.
Programs provided by the house include laundry facilities, a day room, meals, and other services. The nightly rate at the Rosenbaum Family House is $25. No guest is ever turned away due to inability to pay. The balance is covered by grateful guests and generous friends of Family House. Each year, the staff and more than 220 community groups provide free dinners to guests Monday through Friday.
"Given the beautiful and rugged terrain of West Virginia, many of our patients travel great distances to receive specialized care at Ruby Memorial. Fortunately, many of them are able to stay at Rosenbaum Family House, where they find shelter and solace during some of the most difficult times in their lives," Albert L. Wright, Jr., president and CEO of the West Virginia University Health System, said. "We are grateful to all of the staff and volunteers who have helped Rosenbaum over the last 20 years, and we congratulate them on reaching this important milestone."
Rosenbaum Family House was built as part of Hilda Rosenbaum and her husband's mission to make a difference for families facing medical crises like her family experienced during the illnesses and losses of their daughter, Nancy, and son, Richard, to cystic fibrosis.
For more information on Rosenbaum Family House, visit www.rosenbaumfamilyhouse.com.