Rosenbaum Family House hosting mini toiletry drive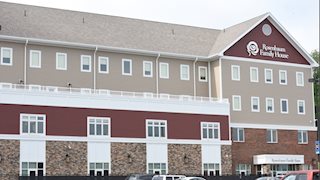 National Hospitality House Week is July 22-28
MORGANTOWN, W.Va. – Rosenbaum Family House at WVU Medicine J.W. Ruby Memorial Hospital will be holding a mini toiletry drive July 22-28 in conjunction with National Hospitality House Week.
Family House supplies mini (or travel-sized) toiletries in all of its rooms and to visitors to its day room. Items needed include shampoo, conditioner, soap, toothpaste, and deodorant. Items can be dropped off at Family House between 8 a.m. and 8 p.m. during National Hospitality House Week. Donors who drop off items are invited to join Family House staff and guests for a cupcake in appreciation of their support.
Rosenbaum Family House provides affordable lodging and support services to WVU Medicine outpatients and adult patient families. A patient must be 18 years of age or older, and guests must live at least 50 miles from Morgantown to qualify for a room. The nightly rate at the Rosenbaum Family House is $20. No guest is ever turned away due to inability to pay. The balance is covered by grateful guests and generous friends of Family House. Due to the great demand for rooms and because guests may stay at Family House as long as the patient is undergoing medical treatment at WVU Medicine's Morgantown area hospitals and clinics, Family House always has a waiting list.
For more information on Family House, visit www.rosenbaumfamilyhouse.com.
For more information: Angela Jones-Knopf, Manager of Media Relations, 304-285-7259