School of Medicine honors leading stroke researcher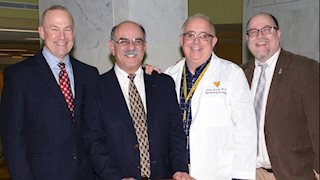 Dr. Jim Simpkins is passionate about what West Virginia University can do for people at risk for stroke.
"We see three or four people every day at Ruby Memorial Hospital with stroke symptoms, and some of them are in their 30s and 40s," he said. "West Virginia has one of the highest incidences of stroke in the nation, and current therapies to lessen stroke damage are limited. Our lab is searching for novel treatments that can limit the damage and improve recovery from stroke."
Simpkins, director of the West Virginia University Research Center for Basic and Translational Stroke Research, was honored by the University this week by being named to an endowed chair in stroke research.
"Dr. Simpkins is a well-known and respected educator and researcher," said Clay Marsh, M.D., WVU's vice president and executive dean of health sciences. "His work is vitally important in improving prevention, promoting recovery and refining treatment methods for stroke in West Virginia and across the country."
"Because of his leadership in the University-wide team that is attacking stroke from every direction, James W. Simpkins, Ph.D., has been named to hold the Barbara B. Highland Stroke Chair in the WVU School of Medicine," Marsh said.
A professor in the departments of Physiology and Pharmacology and Neurology, Dr. Simpkins has spent more than 40 years in academia. His research focuses on the causes and potential treatment for Alzheimer's disease and stroke. He and his team are studying the cause of brain damage from Alzheimer's and stroke, and develop treatments based on their understanding of causes.
Simpkins earned his bachelor's and master's degrees in biology from the University of Toledo. After receiving his Ph.D. in physiology from Michigan State University, he became a faculty member at the University of Florida, where he served for 23 years. Before coming to WVU in 2012, Simpkins was professor and chairman in the Department of Pharmacology and Neuroscience at the University of North Texas Health Science Center.
A winner of the WVU School of Medicine Dean's Excellence Award for Research in 2014, Simpkins also received the 2014-15 Benedum Distinguished Scholar Award in the category of Biosciences and Health Sciences from the Benedum Foundation.
Simpkins serves on the editorial boards for two journals, "Aging and Disease" and "Journal of Neuroinflammation." He has edited three books and published hundreds of articles. Simpkins also has been issued patents in the United States, Canada, Australia and Europe.
When creating endowed chairs, which is an irrevocable commitment, the University ensures that the area of study is of long-term interest and a benefit to the state and its citizens. The chair honors both the named holder of the chair and also serves as an enduring tribute to the donors who establish it.
Endowed chairs are crucial for recruiting and retaining the highest-quality faculty and for honoring faculty that have made a significant impact. Building a strong base of faculty talent enriches the academic environment, which attracts and inspires motivated students.
As part of a larger $5.2 million donation that will support the College of Law and the School of Medicine, the endowed chair was funded with a $2.6 million gift from the Barbara B. Highland Charitable Trust.
For news and information on the WVU School of Medicine, follow us on twitter @WVUMedSchool, like us on Facebook or visit medicine.hsc.wvu.edu.