School of Public Health students participate in Operation Dawson Storm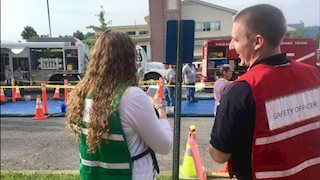 Three School of Public Health graduate students recently participated in a hands-on disaster preparedness training. Operation Dawson Storm, held on Saturday, July 22, was a full-scale exercise designed to test operational and emergency response plans, policies, and procedures for a coordinated Law Enforcement and Multiagency CBRNE (Chemical, Biological, Radiological, Nuclear Defense, and Explosive) incident within Monongalia County West Virginia.
Lauren Branch, Ph.D. candidate in Occupational and Environmental Health Sciences, was a participant in the hands-on exercise. She served as a member of the Joint Information Center, and was in charge of walking members of the press around the scene, explaining different parts of the exercise and fielding questions.
"This is one of the biggest exercises I have been a part of," Lauren said. "It was inspiring to see all these different agencies working together just as they would in a real situation."
Lauren said Operation Dawson Storm also highlighted the need for the public to sign-up for local emergency alert networks prior to an actual emergency event.
The exercise was a collaborative project between West Virginia University, the Monongalia County Health Department, the National Guard, community-based first responders and more.