Senator Capito Visits WVU Disordered Eating Center of Charleston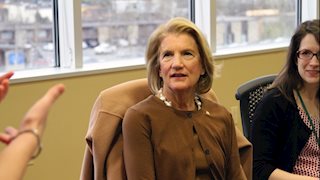 U.S. Senator Shelley Moore Capito toured the WVU Disordered Eating Center of Charleston at the Robert C. Byrd Clinical Teaching Center at CAMC Memorial Hospital on Thursday, February 22, 2016.
The purpose of the visit was to meet faculty of the program and those who benefit from the services offered there and to learn more about eating disorders, as Congress considers the Anna Westin Act. Named after Anna Westin, a woman who battled anorexia for five years and died in 2000 at the age of 21, the act would require training for health professionals and school personnel to identify eating disorders in early stages and to provide intervention.
According to facts outlined in the Anna Westin Act, 14.5 million Americans suffer from an eating disorders and 23 people die each day as a result, nearly one a minute. Eating disorders appear across all age groups, races, ethnicities and socioeconomic groups in the United States, but are more common in women.
The WVU Disordered Eating Center of Charleston (DECC) was launched in the summer of 2010 by Drs. Stephen Sondike and Jessica Luzier of the WVU Charleston Division. DECC is a multidisciplinary outpatient treatment program that provides services for youth and adults with disordered eating, including clinical eating disorders.
For more information the WVU DECC, visit their website at hsc.wvu.edu/decc.