SPH students attend 2017 NACCHO Conference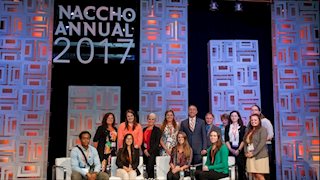 Students, alumni, faculty and leaders of the WVU School of Public Health had the opportunity to attend the 2017 NACCHO Conference in Pittsburgh earlier this month. The conference aims to provide attendees with effective tools, strategies and concepts to directly impact the health of the public.
Fifteen students and alumni from the WVU School of Public Health were able to attend the national conference. Students attendees included: Grant Basagic, Lauren Branch, Andrea Calkins, Lauren Gerchufsky, Gabi Henry, Brittany Irick, Angela Javurek, Emily Jenkins, Ally Makono, Samantha Melius, Elly Myers, Savanna Plombon, Kaitlyn Pompili, Katarina Preamble and Megan Ross. Bobbi Sykes, director of practice-based learning and Dr. Michael Brumage, assistant dean for public health practice and service, were also in attendance.
NACCHO, the National Association of County and City Health Officials, is comprised of nearly 3,000 health departments across the United States. NACCHO seeks to improve the health of the public by incorporating the core values of equity, excellence, participation, respect, integrity, leadership, science and innovation.