St. Joseph's Hospital Auxiliary honors 2016 Volunteer of the Year Frank Eskew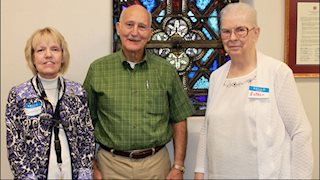 BUCKHANNON, W.Va.-- St. Joseph's Hospital Auxiliary is proud to announce that Frank Eskew has been chosen as the Volunteer of the Year for 2016.
Eskew has volunteered with the Auxiliary for the past seven years. His volunteer work has included gift shop clerk and photographer for the Auxiliary, and he is now serving as chairperson of the Public Relations Committee.
"Frank is always willing to help with any special activities we have," Carolyn Hornbeck, president of the Auxiliary, said.
"The volunteers with the St. Joseph's Auxiliary give of their time to help make this hospital welcoming to all who come here," Skip Gjolberg, St. Joseph's Hospital administrator, said. "We congratulate Frank on this well-deserved honor."
Photo identifications (left to right): Carolyn Hornbeck, Auxiliary president; Frank Eskew, 2016 Volunteer of the Year; Esther Dyer, Auxiliary past-president
For more information: Lisa Wharton, St. Joseph's Hospital Vice President of Marketing, Public Relations, and Foundation, 304-473-2138