St. Joseph's Hospital Auxiliary hosts annual recognition dinner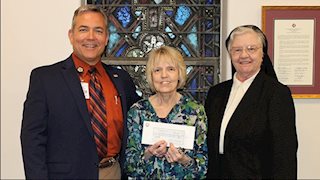 BUCKHANNON, W.Va.- The St. Joseph's Hospital Auxiliary recently hosted its annual recognition dinner for 2017.
President Carolyn Hornbeck welcomed everyone and introduced Hospital Administrator Skip Gjolberg, who gave the Auxiliary an update on the hospital and its transition into the WVU Medicine family. Hornbeck then presented the hospital with a check for $10,000 from funds raised by the Auxiliary.
Pins were presented in recognition of hours of service to:
15,500 hours: Shirley Lewis
7,500 hours: Colleen Simmons
5,500 hours: Carolyn Hornbeck
3,000 hours: Vonnie Hager;
2,500 hours: Esther Dyer
2,000 hours: Boots Marino
1,000 hours: Cathy Debarr
500 hours: Patty McComas and Beverly Reger
100 hours: Geraldine Howard
Denise Steffich, Auxiliary coordinator at United Hospital Center, installed the new officers for 2017-2018. They are: Carolyn Hornbeck, president; Pat McComas, vice president; Beverly Reger, secretary; and Karen Trent, treasurer.
For more information: Lisa Wharton, St. Joseph's Vice President of Marketing, Development, and Foundation, 304-473-2138