St. Joseph's Hospital welcomes 2017 class of Junior Volunteers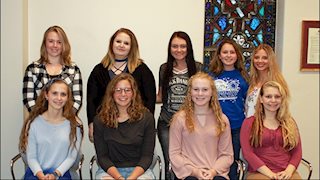 BUCKHANNON, W.Va. -- St. Joseph's Hospital welcomed students from Buckhannon-Upshur High School to the hospital as its newest class of Junior Volunteers. Sponsored by the St. Joseph's Hospital Auxiliary, the students will be working throughout the hospital as part of the Junior Volunteer Program.
This year's Junior Volunteers are Lauren Black, Kendra Mills, Tamyra Nottingham, Mihala Phillips, Haylee Rice, Desiree Smith, Johanna Smith, Caitlyn Wendling, and Marissa Workman.
The Junior Volunteers are a select group of high school students who gain valuable work experience in various hospital settings. They may be assigned to work in the Acute Care Unit, the Nursing Care Facility, or in the Skilled Nursing Unit of the hospital. They must maintain a C-plus average in school while working a minimum of two hours per week. The students receive community service credits, which are often necessary for college admission.
For more information: Lisa Wharton, Public Relations/Marketing and Foundation, 304-473-2138